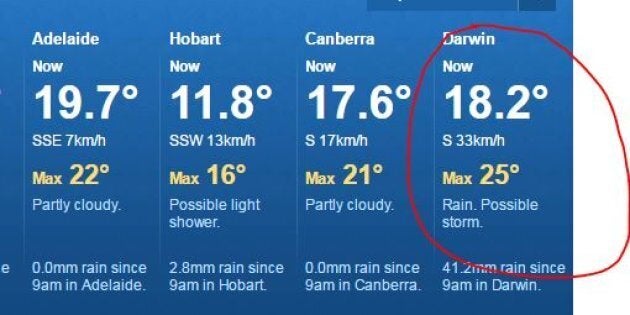 They don't do cold weather in Darwin. Anything that makes people's toes feel cold while wearing thongs is just not par for the course.
That's why Tuesday April 11, 2017, will go down as a brrrrrrrrutal day in Darwin history. These were the temperatures just before 4pm local time. It was almost as cold as Canberra and Melbourne, and remember, it snowed just near both those cities on Monday.

Unsurprisingly, Territorians were TOTALLY FREAKING OUT.
You know it's EXTREMELY SERIOUS when they contemplate buying socks.
So do we, Mitch. So do we. But unfortunately we're up the other end of the country, so we'll report from afar what's going on.
Darwin hasn't gotten above 22 degrees all day Tuesday.
That's exceptionally cold for a city where the daily average maximum temperature in every single month is above 30.
What's more, the average April MINIMUM (overnight) temperature is 24.
The Tuesday daytime temperature is even more of a statistical outlier when you consider Darwin's maximums thus far in April have been: 32, 33, 34, 33, 32, 33, 33, 34, 33 and 32.
So what's going on? It's the cyclone's fault, or more accurately, the near-cyclonic strength weather system known as "Tropical Low 1".
A combination of steady rain and strong winds mean it just hasn't heated up in Darwin and surrounding areas on Tuesday.
All of which means that Darwin's lowest ever maximum temperature for April will almost certainly be broken. We'll know more later.
What we know now is that this won't be Darwin's coldest day ever. That was a 21.1 degree day in July 1968. We imagine local stores totally sold out of socks that day.
ALSO ON HUFFPOST AUSTRALIA