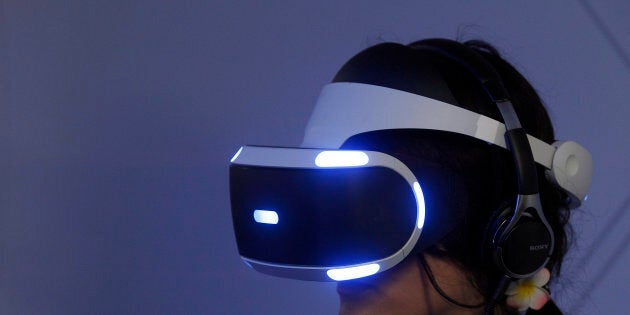 The year of virtual reality is set to get another player next week, with Playstation releasing its much anticipated Virtual Reality rig.
VR isn't perfect, but it is changing how video games are experienced.
From what we've seen, flight sims, racing games and 'experience' games such as Batman Arkham VR are where it's at, however there seems to be a bright future for first person shooter-style adventure games as well.
There are already a few excellent VR machines out there, such as the HTC Vive and Oculus Rift, but both are pricy.
Retailing at $549 for the basic Playstation VR kit (you need a Playstation 4 to get going, and you'll need a Playstation 4 camera, sold separately), Sony's offering promises to be one of the cheaper high-end VR rigs on the market.
Set to be released next Thursday, the Playstation VR will drop with a bevy of titles.
BATMAN: ARKHAM VR
Yep, you get to be Batman. And why wouldn't you?
There are a few videos out there that show off some gameplay, but so far it looks like you'll be playing a detective Batman rather than a busting-heads Batman (although you can throw baterangs like a boss).
It's impressive, but don't expect to find yourself rolling around your living room in a life or death struggle with the Joker.
It is expected to be released in October.
EVE: VALKYRIE
Immerse yourself in the universe of Eve Online as a deep space combat pilot dogfighting their way through the galaxy.
First released on PC in March, it's being released for Playstation VR in October.
Developers CCP Games announced in April the game will have cross-platform play, meaning Playstation aficionados can hound Oculus Rift and HTC Vive owners across the galaxy without getting off the couch.
PLAYSTATION VR WORLDS
Five VR experiences in one handy place. You can step into the shoes of an east-end gangster in The London Heist, illegally street race through oncoming traffic in VR Luge and try not to lose your cool while swimming with an angry shark in Ocean Descent.
The clip below will give you the gist.
Thinking about waiting a bit before you immerse yourself in the virtual world? Check out some of these non VR titles.
MAFIA III
The third instalment in the Mafia series sees players take control of Lincoln Clay, a veteran of the Vietnam War seeking revenge after his friends are murdered by the mob. Set in 1968 in a reimagined, New Orleans (called New Bordeaux), it will see the player battle through districts filled with some tightly stylised mob violence (check out the trailer below).
The open world, third person adventure was released on Friday, October 7, on PlayStation 4, Xbox One, and Windows PC.
GEARS OF WAR 4 (XBOX)
One for the Xbox fans, Gears of War 4 is a third person shooter that sees a wise cracking JD Fenix, the son of the game series original protagonist Marcus, and mates Del and Kait, take on a new threat to humanity.
Gears of War is a classic which made great play out of the cover system, and players of the new game will find familiar comfort as they roam through the campaign and a bevy of new multiplayer maps.
Developed by Coalition, Gears will be released on October 11 on Xbox One and Microsoft Windows, ahead of a movie adaption being developed by Universal Pictures.
BATTLEFIELD 1
I AM NOT READY FOR THIS, I AM NOT --
Sorry. But I mean just look at it.
For the latest in the Battlefield series, DICE and Electronic Arts have traded in the familiar future war scenario for a brutal depiction of World War 1, with players shooting, hacking, slashing, flying and tanking their way through a world rarely seen in video games.
Players can control several characters, and the multiplayer can support up to 64 players.
BattleField 1 is expected to be released on October 21 on PlayStation 4, Xbox One, Microsoft Windows
DISHONOURED 2
Stealth, spooky powers, dethroned empresses, whales and bodyguards turned assassins.
Dishonoured 2 is set 15 years after the first Dishonoured. Empress Emily Kaldwin is dethroned by an otherworldly power, driven out of the Dunwall and forced to become an outlaw.
Players have the choice of continuing the game as either Emily or Corvo Attano, the hero of the first game.
Dishonoured 2 will be released on PC, Playstation 4 and Xbox 1 on November 11.