Editor's note: Taking a cue from Slate, this article describes an American news story — the virtually unprecedented prosecution of nearly 200 protesters on felony charges — using language the American media typically reserves for news stories written about more repressive countries. Felony charges against American journalists are jarring. Our approach to this story is meant to be as well.
WASHINGTON — An American photojournalist swept up in a mass arrest of hundreds of demonstrators conducted by security forces in the nation's capital earlier this year during a protest of a regime change ceremony will face a criminal trial here Monday.
Alexei Wood, a 37-year-old freelance photojournalist based in the American southwest, has been charged with multiple felonies. If found guilty, he could face decades inside a mammoth prison system in the world's most incarcerated nation.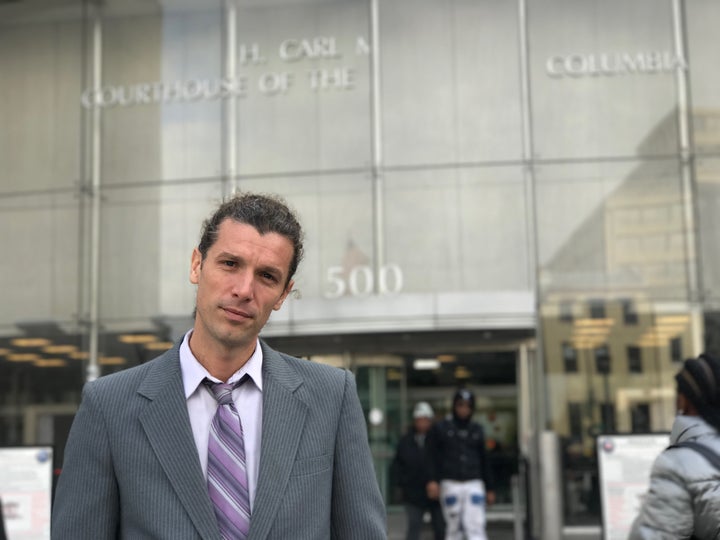 Wood was one of more than 200 citizens captured en masse by police forces quelling demonstrations held at the same time as President Donald Trump's inauguration. Just weeks before, the tough-talking real estate magnate and reality television star shocked the nation's political class when his rightward, populist campaign beat out that of a candidate from America's predominant center-left political dynasty.
The continued prosecution of Wood and nearly 200 protesters has raised alarm among many who worry it will have a chilling effect on dissent in America, a country that holds itself up as a beacon of free speech and political expression.
Trump's inauguration here on Jan. 20 sparked mass protest, much of which was peaceful. But police forces quickly moved in when members of a loosely organized far-left rebel group dressed in black smashed business windows in the capital's downtown. Later that day, some set fire to a limousine, which they viewed as a symbol of the country's elites. The unrest resulted in more than $100,000 of property damage, and several members of the security force sustained minor injuries.
The protests have been referred to as the "J20″ protests, short for the date. The demonstrations were organized by a group called DisruptJ20, whose website had been subject to search warrants that critics called a fishing expedition.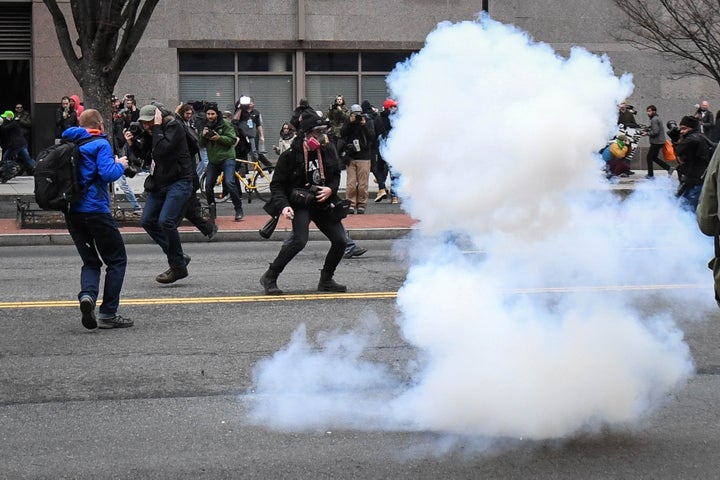 In recent years, security forces in Washington, also known as the District of Columbia, have generally exercised restraint in their response to demonstrations, which are more common here in the nation's capital than in most parts of this vast country of more than 300 million people.
But once property damage began on the day of Trump's installment, the Metropolitan Police Department responded to the demonstrations with significant force. They threw stinger grenades, fired pepper balls and sprayed chemical agents that are banned in warfare.
Following the lead of police, prosecutors also responded aggressively, moving to charge protesters using a rarely invoked riot act, which holds members of an entire group responsible for the actions of a few. Wood is now among nearly 200defendants who, if convicted on charges of rioting, conspiracy to riot, inciting others to riot, and multiple acts of property destruction, could potentially each be sentenced to over 60 years in prison.
Though such extreme sentences are unlikely, human rights observers point to the aggressive prosecution of those rounded up during the demonstration as yet another excess of the American criminal justice system, which has come under increased scrutiny in recent years especially in regard to its treatment of ethnic minorities.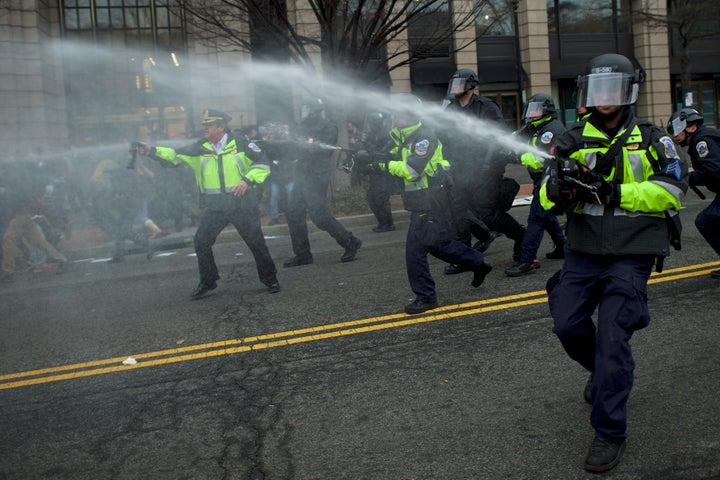 Wood and five co-defendants will be the first of those arrested during the protests to go on trial, with the remainder of the cases scheduled in the coming months. The trials will pit two groups routinely demonized by Trump ― journalists and protesters ― against security forces the American "law and order" president has sought to embolden both through his rhetoric and through official government policy.
Over the past year, prosecutors cracked into at least eight of the cellphones confiscated from defendants, extracting some of their internet histories, communications and pictures to be used as evidence in court.
In April, security forces with judicial branch approval broke into the D.C. home of one protest organizer ― a tactic more commonly associated with investigations of drug rings and criminal enterprises ― seizing thousands of dollars worth of personal property, including computers, cellphones and art supplies.
Media advocates and civil rights groups are particularly alarmed by the continued pursuit of severe felony charges against Wood, an eccentric photographer and videographer who has described his beat as "resistance cultures and conflicts" and has covered political unrest and sectarian violence across the country. Prosecutors had dropped charges against seven other journalists arrested that day, most of whom had connections to established media outlets. But the charges against two freelance journalists, Wood and Aaron Cantú, remain.
Wood livestreamed his experience on Facebook, a 13-year-old social media network which initially catered to college students and now has a great influence over the country's political discourse. Wood's video will likely play a prominent role in the case against him and other protesters, and may offer some insight as to why prosecutors continued pursuing charges against him and not other journalists.
In the video, Wood appears to express support for those engaged in destruction. In one part, Wood shouts "wooo" as someone tries to smash the window of a bar called Maddy's Taproom. At another point, Wood appears to celebrate as a masked individual spray-paints "revolution or death" on a garage door. "We've got some gra-fee-taaay," he says, adding an approving "wooo" as the spray painter finishes.
Such expression, especially in support of property destruction, is widely considered unacceptable by the standards of American journalism, which typically encourages avoiding direct advocacy for political causes, and would be grounds for dismissal at most of the nation's mainstream outlets. But constitutional rights aren't exclusively for journalists in this 241-year-old democracy, and press advocates like the Committee To Protect Journalists say Wood's political utterances during his documentation of the event should not result in any charges, let alone severe felonies.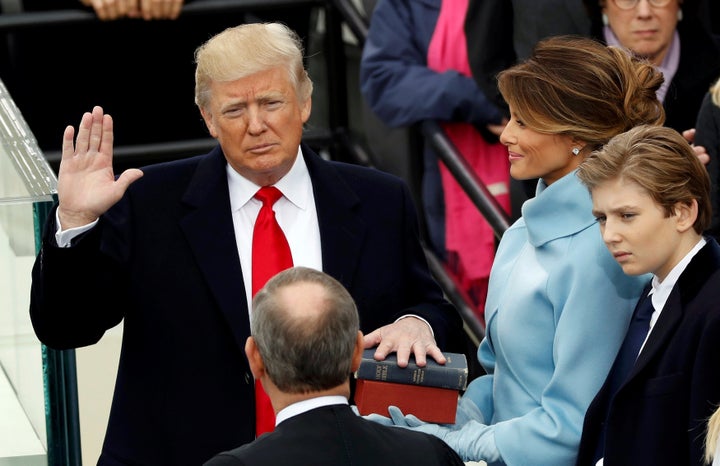 The country's constitutional protections, in theory at least, are supposed to protect the right to peacefully assemble and express oneself in a country that holds itself up as a bastion of freedom.
In interviews with HuffPost outside the aging, fortified courthouse, not far from the U.S. Capitol, Wood acknowledged his behavior that day might not sit well with other journalists, adding that he did nothing illegal.
"My professionalism is certainly up to be criticized, and I'm open to it and I'm welcoming of it," he said. "But I absolutely stand by that I did nothing illegal and I did nothing wrong." He says he was there as a journalist and had been hoping to sell his photos. "I went there to document," he said.
The United States generally has a better track record on press freedom than most other countries. But arrests of journalists across the nation have seemingly been more common in recent years, with the U.S. Press Freedom Tracker logging 31 arrests of journalists in 2017 alone.
Just over three years ago, for example, one of the authors of this story was arrested by local police inside one of the country's ubiquitous McDonald's restaurants in the American Midwest, where he'd been covering demonstrations that broke out after a police officer shot and killed an 18-year-old ethnic minority. The demonstrators were protesting the suburban security force accused of rampant discrimination and corruption.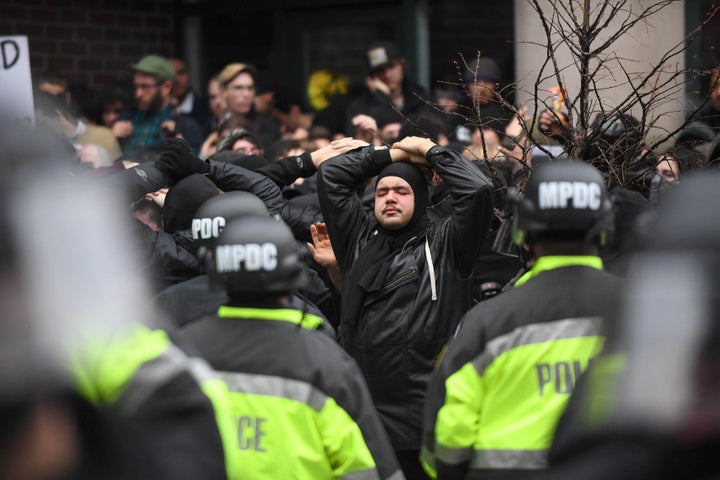 Law enforcement isn't the only threat, as journalists have also been targeted and subject to harassment at political rallies and demonstrations. Earlier this year, a politician from the American West body-slammed a reporter from The Guardian, shattering his glasses. Voters elected him anyway.
Trump has been particularly vocal in his condemnation of journalists, calling them "enemies of the American people." His top law enforcement official, Attorney General Jeff Sessions, a conservative from the American South, has declined to rule out jailing journalists and greatly expanded the number of federal investigations into leaks to the news media.
Earlier this year, prosecutors even secured the conviction of a woman who laughed during Sessions' appearance before the country's legislative branch, though authorities declined to put her on trial yet again when a member of the judicial branch tossed out the conviction based on the government's misconduct.
Trump's response to protests has skewed authoritarian over the past two years. As a presidential candidate, he routinely called on his supporters to engage in violence against anybody disrupting his rallies. But after a resurgent neo-Nazi and white supremacist movement held a pro-Trump rally in Charlottesville, Virginia, in August, which culminated in a neo-Nazi driving his car through a crowd of counterprotesters, killing one woman, Trump was slow to condemn his supporters, eventually blaming the violence there on "both sides."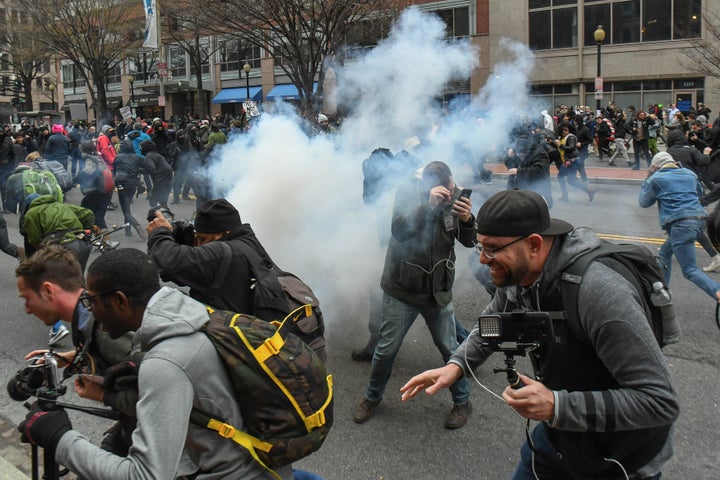 Wood's trial Monday will be held before District of Columbia Superior Court Judge Lynn Leibovitz, who was appointed by the second president in the conservative Bush political dynasty, factions of which have tried to distance themselves from the current de facto leader of the Republican Party, Trump.
Leibovitz, a former homicide prosecutor during the 1990s when Washington was known as the nation's murder capital, is a widely respected official some consider "D.C.'s toughest judge." She once sentenced a 79-year-old demonstrator who'd been arrested multiple times to 25 days in jail, and she thus far has denied defense motions to dismiss cases against the defendants who argued the capital city's rioting laws were too broadly written.
Wood and his co-defendants appeared before Leibovitz in court last week, watching over the course of two days as members of the jury panel of D.C. residents came in to tell the judge and attorneys a bit about themselves.
The trial is likely to stretch out over the course of four weeks. "Quick in this case is going to be a relative term," Leibovitz said in court last week.
The case is being prosecuted by the Office of the U.S. Attorney for the District of Columbia, which is part of the executive branch's Justice Department. In the nation's capital, the U.S. attorney plays a unique role in that the office prosecutes both federal crimes and local crimes, which means prosecutorial decisions are made by an appointee of the country's ruling party rather than a prosecutor chosen by local voters.
The vast majority of this rapidly gentrifying city's residents, many of whom are employed within the American bureaucracy, oppose the country's ruling party. Several were removed from the jury due to their close connections to the government and law enforcement agencies ― one potential juror, for example, was quickly dismissed because her nephew was a D.C. police officer and was injured during the protest.
Even if jurors don't convict Woods on any charges, the journalist said the prosecution has already taken a serious toll on him.
"Getting arrested was traumatic. The pepper spray was traumatic. Honestly the whole experience was traumatic," he said. "The machinery and the inhumanity of pretty much every single bit of it."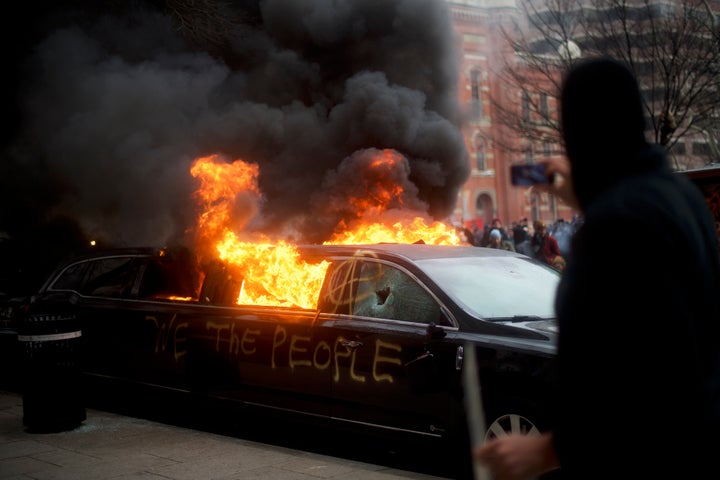 Wood, who lives over 1,600 miles away in San Antonio, Texas, said he's already had to attend numerous pre-trial hearings, and had to either fly or drive the distance each time.
This security force's response to the Jan. 20 protests is currently being investigated by local authorities in Washington. The heavily armed police that day never warned protesters they could face arrest if they didn't disperse, as is required by the department's own policies. Instead, they surrounded the protesters, an aggressive policing technique known as "kettling," often used at protests over the police killings of unarmed African-Americans. A recent "kettling" incident in the Midwest city of St. Louis swept up several journalists, and a member of the judicial branch found that the aggressive security force tactics there had likely violated the bedrock principles of American democracy.
In Washington, protesters were trapped and deprived of food, water and bathroom access for hours before eventually being detained and arrested. The zip ties used to bind their wrists dug into their flesh, causing them to bleed. And for weeks after, some said their skin peeled from the pepper spray with which security forces had sprayed them.
Journalist Shay Horse alleged in a lawsuit here that he and four protesters were subjected to cavity searches during their detention that could be considered sexual assault. The five men were forced to take off their pants, Horse said. An officer then grabbed the testicles of the five men, Horse alleges, before sticking a finger in each of their rectums, as other officers laughed.
Horse said in a press conference earlier this year that it felt like police "were using molestation and rape as punishment."
Although the city has since launched an independent investigation into how the protest was policed, few of the defendants have hope for real accountability. The organization hired by the city to conduct the investigation is a decidedly pro-police organization called the Police Foundation.
Still, a dissident named Kris Hermes told HuffPost, "If the investigation proves that people were unfairly arrested, what does that mean for people that have already been tried?"
Hermes is a longtime legal activist affiliated with the National Lawyers Guild, which has been working with the defendants in this case. He's worried the charges against the defendants in this case are part of a government effort to crack down on protests.
"I think it's already sent a chilling message," Hermes said. "If all it's gonna take is people going on the streets and being near some property destruction or near people engaged in alleged criminal activity for them all to get felony charges, that's going to stifle free expression in the streets, and prevent people coming out and protesting when they have every right to do so."
Ryan Reilly reported from Washington. Christopher Mathias reported from New York.