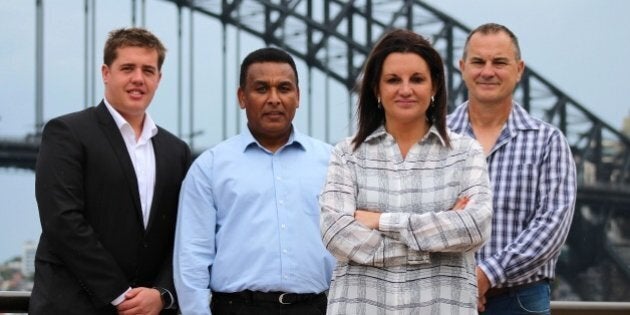 Tasmanian senator Jacqui Lambie has unveiled three military veterans as NSW candidates for her party's Senate push, bringing the Jacqui Lambie Network's field to eight.
Lambie, elected to the Senate in 2013 as a member of the Palmer United Party, broke away from the party in November 2014 and formed the JLN in May 2015. Lambie is a popular figure in her native Tasmania, and recent reports claim she may capture two or more seats in her home state at a double dissolution election.
She has already unveiled several candidates for the JLN's Senate push in Victoria, Queensland and Tasmania, including former RAAF officer Hugh Dolan, adventure tourism operator and former army man Bob Davis, designer Matt Timson, Devonport Mayor Steve Martin and Rural Health Tasmania chief executive Robert Waterman.
On Monday, Lambie announced two former army veterans and a navy veteran as her party's candidates for NSW -- all with ties to the Australian Peacekeeper & Peacemaker Veterans' Association.
Fiji-born Allan Thomas, national president of the Australian Peacekeeper & Peacemaker Veterans' Association, is the JLN's number one NSW Senate candidate. He said he "wants to hold the Government accountable for the people they send into war or war-like service," after a 14-year career in the armed services himself, and also wants to "hold the government accountable over the increasing loss of Australian jobs to foreign workers not held to Australia's wage conditions and standards".
Living on the far north coast of NSW, Thomas is also a rugby referee. He is also chair of a working group seeking to establish a Royal Commission into the Department of Veterans' Affairs -- a cause Lambie herself has personally championed this year.
Bruce Relph is the JLN's number two candidate in NSW. Joining the army in 1985, he said he was deployed to Iraq in 1991. The NSW President of the Australian Peacekeeper & Peacemaker Veterans' Association and a former army commando, Relph said he "has a heart for veterans' issues".
The third NSW candidate is Mitchell Carr. He says he spent several years in the Royal Australian Navy, serving on HMAS Darwin and HMAS Parramatta, and is an advocate for strong border control policies. He supports Lambie's policies of a Royal Commission into the Department of Veteran Affairs, and a crackdown on foreign workers using 457 working visas.
A Facebook page for Carr says he lives in Canberra and is a licensed real estate agent in NSW and the ACT. A post from March shows he attended a demonstration outside Parliament House where Lambie addressed the Australian Peacekeeper & Peacemaker Veterans' Association.
The heavy focus on defence force veterans rings true with the 14 core values Lambie established for her party, second of which reads: "JLN will always have a special interest in all matters associated with veterans, former and serving members of the Australian Defence Force and their families."