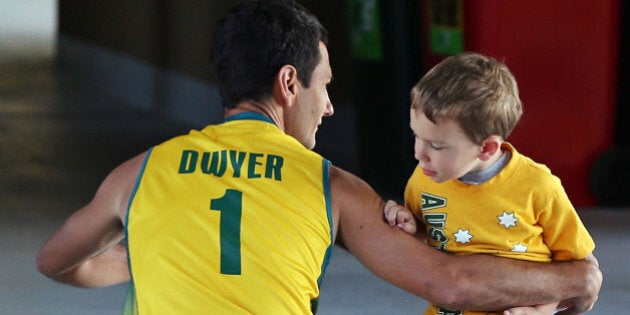 Jamie Dwyer is the greatest Australian sportsman you've never heard of.
If you have heard of him, or if you happen to be Jamie Dwyer and you're reading this, please accept our apologies. If you're not in one of those categories, here's your cheat sheet.
Jamie plays hockey. He's spectacularly good at it and has been for a very long time. Jamie is a five-time winner of the International Hockey Federation World Player of The Year. No Aussie bloke has ever won the award more than once. Jamie's in another league.
Now 36, Dwyer looks certain to be on the plane to Rio for his fourth Olympics. The final squad isn't announced until June but if he's not in it, we'll *personally storm the selectors' bunker.
(* Note: not a real threat. And there probably isn't an actual bunker.)
If there's one moment that typifies a decorated career, it's this.
This is the moment Dwyer smashed home the goal that secured the Aussie men their first ever Olympic gold medal at the Athens Olympics after 48 years of heartbreak and near misses. It wasn't the prettiest shot. But it sure did the trick.
The Huffington Post Australia caught up with Jamie this week, which was bloody good of him because he wasn't expecting our call.
Ant: Hi Jamie. We start by asking every sportsperson this. Who would win a fight between a kangaroo and an emu?
Jamie: A kangaroo 'cos he'd sit up on his tail and kick the emu till it was too tired to fight back.
Ant: Pretty convincing answer. You don't give the emu any chance?
Jamie: If the emu gets close and he's pecking away and gets him off balance he's got a chance, but I think the kangaroo would have too much reach.
Ant: Fair enough. Hey is that a kid I can hear in the background?
Jamie: Yeah I'm at home with my baby daughter. She's one on Tuesday so that year's gone pretty quick. I also have seven-year-old and five-year-old boys.
Ant: You're a pretty hands-on dad?
Jamie: Yeah, it's like a full time job. But I love being hands-on with the kids. When we train it's either early morning through to lunch, or from lunch to six or seven at night. When I'm home I do as much as I can with them.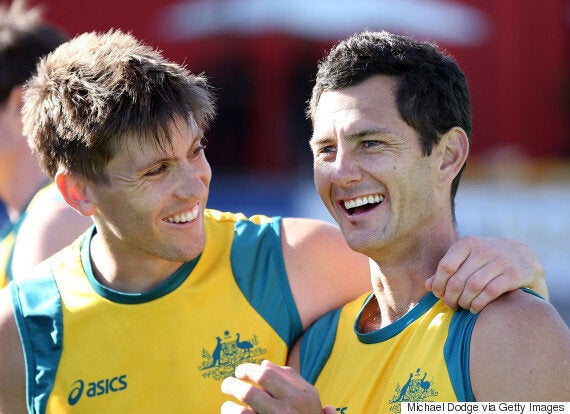 Dwyer with teammate and fellow Rio hopeful Eddie Ockenden.
Ant: So you'll get to hang with the boys when they get home from school later this afternoon.
Jamie: Actually I'm playing against Malaysia tonight.
Ant: What, you're playing for Australia? In a few hours from now?
Jamie: Yeah but it's OK, we can chat.
Ant: You're the best. I take it your boys love sport.
Jamie: They love belting a few balls round the house. My elder son Julian loves sport a bit more than the middle one [Taj] who's more into music and art. Don't know where he gets that from.
Ant: Wait a minute. Ball games are banned inside my house. You let the kids play indoors?
Jamie: Well we don't have a very big backyard but the hallway is like 35 metres long so we play with a few rubber balls inside. I'm only renting this house so hopefully the landlord doesn't read this.
Ant: We won't tell a soul. Hey my daughter just started hockey. Give us one tip for a young hockey player.
Ant: Good advice. I was thinking something a little technical but that's much more important. So here you are, 36 going on 37 and heading, we hope, to Olympics number four. Do your teammates tease you for being old?
Jamie: Not too much. A few of the young guys chuck out some cheeky remarks sometimes. Like if I'm tired or something they'll say 'old man needs some sleep'.
Ant: Ouch. Hopefully you'll show them the value of experience in Rio.
Ant: Not that you're counting...
Jamie: We keep a close eye on the days and make sure we do everything we can every day. Rio is going to come around pretty quickly.
Ant: You've been a full-time hockey professional for the best part of 20 years. What else are you up to?
Jamie: When I got home from playing in the Netherlands I was 32 and I was injured and I thought 'geez, I'd better start preparing for life after hockey'. I thought London 2012 would be my last Olympics so I invested in a couple of restaurants with [former pole vaulter] Steve Hooker and [former swimmer [Eamon Sullivan]. I also invested in jdh, my hockey brand which is going really well. We've sold gear in 15 countries around the world now and are starting to move into shoes and apparel. It's really good fun.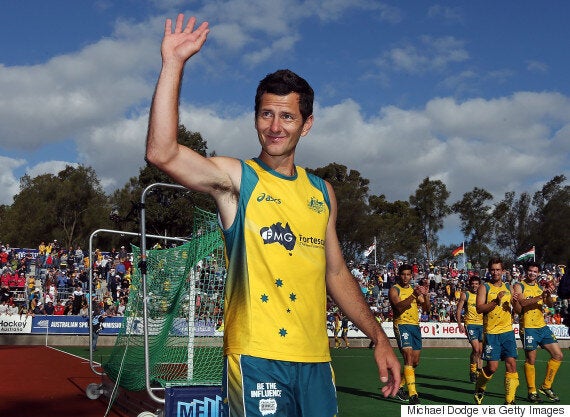 Dwyer in 2012 after winning the Champions Trophy in Melbourne.
Ant: Your [Dutch] wife Leonie is a banker, right? Does she run the business side of things?
Jamie: Yeah she pretty much does all the ordering and the stuff I'm not really good at.
Ant: Well it's good to know your business is doing well. But what about the sport of hockey itself? How's it going?
Jamie: In Australia it has probably stood still a little bit. We're still trying to figure out our place in the sporting world. One advantage we've got is that both men and women are involved in the sport. But I think we've got to learn from our European friends how to run hockey tournaments. Hockey is getting bigger in Europe and places like India but it's standing still in Australia by comparison. But it has potential. We need to work together to promote our sport.
Ant: Australia is the number one ranked nation in men's hockey. Are we going to win the Olympics?
Jamie: We have the ranking because we have the best squad in the world. In saying that, Germany won the last two Olympic gold medals and the Dutch are getting better all the time. They beat Germany 6-1 in the Euro Championships last year. Great Britain have beaten us a lot lately too, and Argentina and India are always getting better and better. There'll be a lot of hard work over the next 140 days but we'll be doing everything we can on and off the field.
Ant: We wish you the best of luck. Thanks for talking to the Huffington Post Australia.