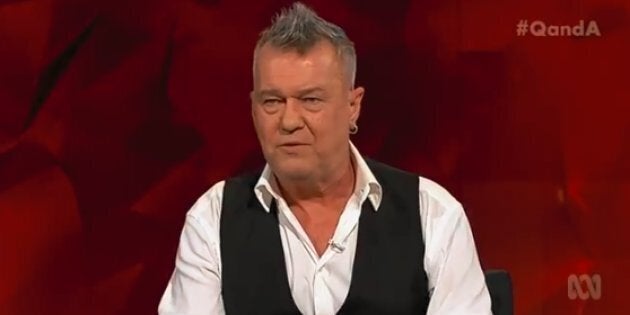 Australian rock musician Jimmy Barnes opened up about his years of struggling with mental health issues and substance abuse, revealing how close he came to ending his own life.
In an appearance on the ABC's 'Q&A' program on Monday night, Barnes explained how at one point when he was over-medicating with both prescription and illicit drugs, he tried to take his own life yet couldn't even remember the attempt the following day.
"I remember not going to sleep but passing out. The last thing I remember was me trying not to wake my wife up and I had everything from the mini bar sat next to me on the table and I was washing down sleeping tablets with vodka, scotch, gin, bourbon, you name it," he said.
"I felt I reached the end of my tether. I just wanted to sleep. I woke up and the next day I remember waking up and I could hear Jane in the next room and Jane is always trying to be really positive and she said, 'let's go out and have a walk and start again'. I said, 'OK'.
"I walked into the room where my suitcase was and I was getting my pants on and suddenly I seen a dressing gown cord tied around a rail in the dressing room and I hadn't remembered doing it.
"It was like watching a black and white movie. It came back to me and I remember getting out of bed and going in and thinking maybe it's easier to die. I lay with a rope around my neck trying to die. It's not that easy to die. And I don't know why I stopped."
The 61-year-old rock star-turned-author went on to say how he had felt guilty about the incident and pushed the importance of young men opening up about their own struggles with mental health.
"I thought how could I possibly do this and seen the impact of Michael [Hutchence's] death and other friends of mine who hadn't made it through had on their families. I thought how could I do this?" he said.
"In 1987 I was drinking like copious amounts and taking drugs and remember thinking 'I'm staring into the abyss here and I don't know what to do'. I never spoke to anybody about it and Michael was probably staring into the same abyss.
"Part of this culture we talk about is men don't like to talk or ask for help. Men don't like to show they're weak. And that led me to almost ruining my children's lives forever... Part of this whole change in men has to be about looking for help and being able to communicate and talk."
In Australia, when it comes to mental health and men, the issue has become epidemic.
Barnes, who was born into an violent lower socio-economic family environment and has faced decades of substance abuse, also told the packed 'Q&A' audience he would run away from the tough times in his life, before he eventually got to a point where he was forced to face his demons -- even if it scared him.
"I knew from the time I was, from eight years old I remember running away from home and sitting on the end of a jetty because there was too much going on at home that I couldn't deal with. I'd sit on the end of the jetty and think maybe it would be easier to swim out," he said.
"As I got older I managed to forget it by drinking or by taking drugs or playing rock'n'roll music. As long as I was running away from everything I was OK. Eventually obviously, you can't run from everything and eventually I had to stop and turn and face stuff.
"When I did it was even more daunting and it scared me more. It was a culmination of [good] things [like] a loving family..and good friends.. that [led to getting help].
"Five years ago... I started seeing a therapist regularly and started going once or twice a week. If he had his way I'd be going every day. But for me that was a huge step for me. I always thought if you go and ask for help, I was like a bit of a bloke, and if you ask for help it's a sign of weakness. I can look back now and look at the day when I started seriously asking for help, and trying to get help was probably the first day where I showed any courage."
Further to that, the Cold Chisel front-man also explained his adoption of Buddhism as a method to look at his own personality and lead the charge to his own recovery.
"Searching spiritually, part of [Buddhism] saved me. I was born a Protestant and when I met Jane [his wife] I started looking at Buddhism," he said.
"I've done a lot of work on myself over the years. I have just been completely unaware of how far and how damaged I was.
"Buddhism, I liked it because it made me look into myself and look for answers in myself and look for hope in myself as opposed to looking out and hoping that the Church or somebody else was going to save me."
If you need help in a crisis, call Lifeline on 13 11 14. For further information about depression contact beyondblue on 1300224636 or talk to your GP, local health professional or someone you trust.