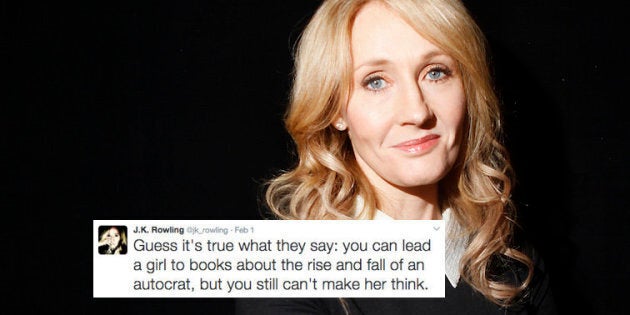 British author J.K. Rowling's Twitter account has had a very specific theme as of late. A quick gander makes it pretty clear that she is not a fan of President Donald Trump or his policies.
And because of this, some Harry Potter fans have threatened to burn their wizarding merchandise if she doesn't stay out of politics.
As for her response? Let's just say that even the book-loving Hermione Granger would be proud.
Yet, not all fans are upset by her tweets. One actually came to Rowling's defense, tweeting to the author, "I'll buy 2 copies of every book to make up for this and I'll donate the second copy to an interested reader. Takers?"
This allowed the author to inject some humor into the situation:
This is not the first time folks have felt compelled to destroy Harry Potter books. The beloved children's series has rattled preachers, priests and religious fundamentalists for years because they feel the books encourage witchcraft, which has led to the series' frequent banning, and even organized book burnings.
So, a few fans tweeting to Rowling to let her know about their arsonist activities probably doesn't make her blood boil.
Especially since it seems like most of her fans are cool with her political views:
So, we suppose if you have issues with Rowling's opinions and feel the need to tell her, go for it. Girlfriend is just going to hit you right back.

Every Friday, HuffPost's Culture Shift newsletter helps you figure out which books you should read, art you should check out, movies you should watch and music should listen to. Sign up here.