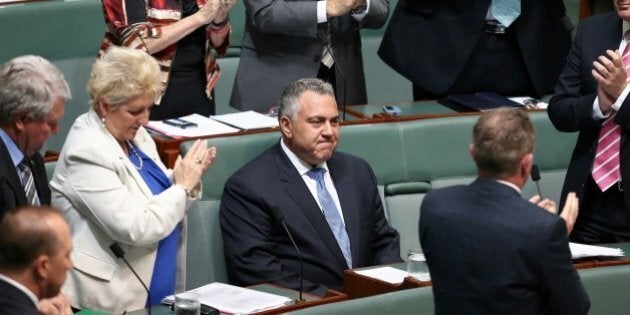 CANBERRA -- An emotional Joe Hockey has defended two years of controversial Budget measures and praised Tony Abbott and Labor in his final farewell to parliament.
His voice wavering at times, the one-time leader-in-waiting spoke of the struggles and achievements over 20 years in politics and received a standing ovation and a warm "we love you" roast from Prime Minister Malcolm Turnbull.
"When faced with a choice, I would always prefer to do what was right than what was popular," the former Treasurer said in Wednesday's valedictory speech.
Hockey, who stumbled in 2014 over the contents and selling of his first tough Coalition Budget, said the Abbott Government was "good at policy, but struggled with politics."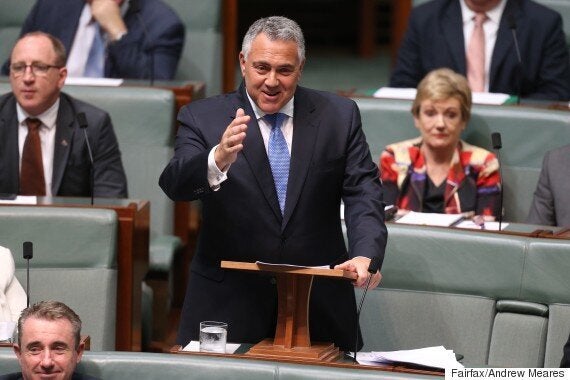 "On the economy and job creation, national security, border protection, taxation, climate change, Immigration and Federal-State relations I believe we got the policies right," Hockey stated.
"However, I admit that we could have done more to win over third-party endorsements and to win over the Senate. And we could have done more to win over the Australian people."
Hockey was replaced as Treasurer by Scott Morrison shortly after last month's leadership coup which ousted Tony Abbott and installed the more popular Malcolm Turnbull.
Abbott is overseas and missed the speech, but Hockey stood up for him, describing his former leader as "one of the most selfless, hard-working and honourable people I have ever met."
"Yes, at times we have clashed, I confess, for more than 30 years we've argued our differences on everything from the Republic to Budget savings."
"But I say directly to the Australian people - the real Tony Abbott is more of a good and decent man than you may know," he said.
With that praise, came a warning: to stop the revolving door of leadership.
"We cannot make it normal to have four Prime Ministers and four Treasurers in just four years," Hockey told his colleagues.
The Medical Research Future Fund was cited by Hockey as his single proudest achievement and he praised Labor for creating the National Disability Insurance Scheme (NDIS) and the National Broadband Network (NBN) at "some risk to my safety getting out of this building."
"It wasn't fully paid for, and the Prime Minister did a great job repairing it, but it was a very significant commitment," he said.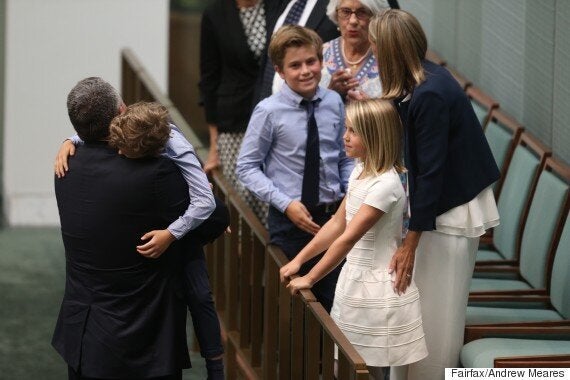 The 50 year old paid tribute to his family, who were in the chamber for the speech, and vowed not to miss any more of his children's birthdays.
Hockey's long-time Canberra flatmate Jamie Briggs sat next to him this morning and his friendship and others, were noted.
"I can now confess that our happiest moments were sitting at home late at night eating Paddle Pops watching Jerry Springer and admiring the latest Nickelback album," he revealed.
The Prime Minister led the final tributes to Hockey.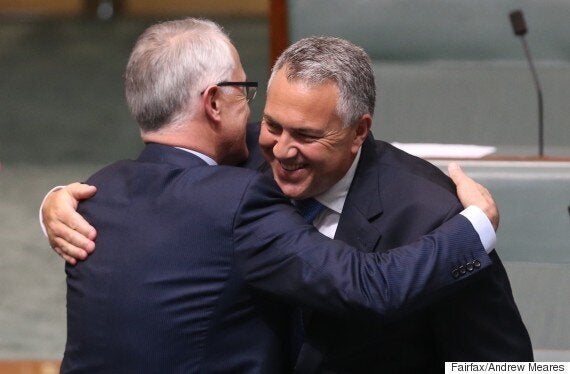 "This is a big day in the life of a big man," Turnbull told parliament.
"One of the giants of the parliament is taking his leave and all of us rose together and applauded him because we admire you, Joe, we love you."
He said Hockey has made an enormous contribution to Australia politics.
"You've executed every office you've had, discharged every office you've had with great passion, with imagination, with great compassion."
The Prime Minister would not confirm the widely held expectation that Hockey is about to be announced as Australia's next Ambassador to the United States, but he gave this hint.
"Farewell from the House of Representatives, not farewell from public service," Turnbull said.
"Whatever you do, whatever your course of life takes, I know that in your heart, together with the love of your family who are here assembled, will be your love for Australia."
"You've got a big heart, a big Australian heart full of love for a great nation."