CANBERRA -- Prime Minister Malcolm Turnbull has welcomed newly and finally announced Australian ambassador to the United States, Joe Hockey, as the "new face" of Australia.
The former Treasurer in the Abbott Government will replace outgoing ambassador and former Labor Leader, Kim Beazley early next year.
The widely-expected Washington move has been announced just days after a by-election in his former seat of North Sydney was taken by his former staffer Trent Zimmerman.
Turnbull has described the 50 year old as a worthy successor to Beazley.
"Joe will be, as Kim has been, the face of Australia to Washington, to the most powerful government in the world," he told reporters in Sydney.
"The face of Australia will be Joe Hockey, and so it's a very important role."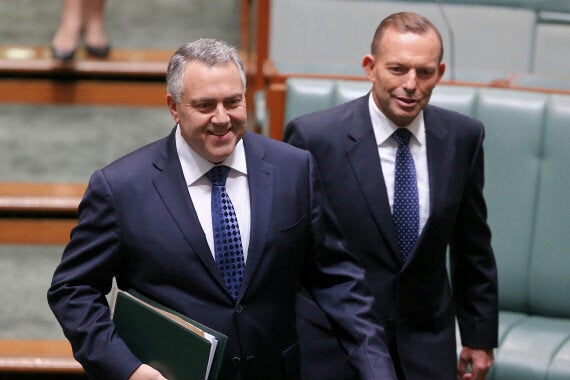 Joe Hockey and then-prime minister Tony Abbott.
Once seen as the heir apparent to Abbott, Hockey was dumped from the Treasury portfolio by Turnbull upon becoming Prime Minister in September.
"Joe is a great Australian," he said. "He is one of the most engaging, persuasive people I've known in public life."
"He is a passionate patriot but (has) a good understanding of how Washington works already."
Foreign Minister Julie Bishop was less enthusiastic, releasing a perfunctory statement which recounted his resume.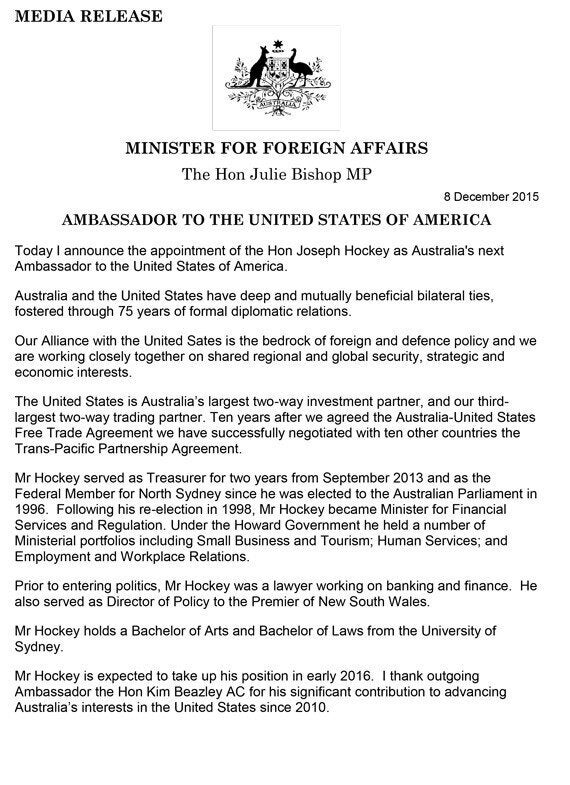 Bishop also thanked outgoing ambassador Kim Beazley for his "significant contribution".
Labor has raised concerns about Hockey and Turnbull's working relationship.
"Clearly, Malcolm Turnbull only a few weeks ago tore down Tony Abbott and Joe Hockey," Labor frontbencher Brendan O'Connor told Sky News.
"I'm concerned that the relationship is still a reasonable one, because if it's not, we're going to have some problems in our relationship with our biggest allies."
Hockey's posting comes after a handful of other political appointments during the Abbott Government. Former Parliamentary Secretary Brett Mason is Australia's representative in The Netherlands, while former Liberal Leader Alexander Downer replaced former South Australian Labor Premier Mike Rann as High Commissioner in London.
"The question has to be asked as to whether this is the right time for an ex-politician to be sent to this top diplomatic post," said associate professor James Curran from the U.S Studies Centre at the University of Sydney.
"Access in Washington is becoming harder, and American expectations of allies like Australia are only growing, particularly where China's rise is concerned.