Actress Judi Dench came to the defense of her "good friend" Kevin Spacey while speaking at the San Sebastian International Film Festival in Spain on Tuesday.
Multiple people have accused Spacey of sexual assault and misconduct.
Dench said that the actor was an "inestimable comfort" during a movie the two worked on together after her husband died.
"He cheered me up and kept me going," she said, according to Variety. When asked about the allegations against Spacey, Dench said that she didn't "know about the conditions of it."
"I can't approve, in any way, of the fact that — whatever he has done — that you then start to cut him out of the films," the actress said.
"Are we to do what happened when he was replaced with Christopher Plummer?" she asked, referencing that Spacey was replaced by Plummer in the movie "All The Money In The World" after the sexual assault allegations surfaced.
"Are we to do that throughout history?" she continued. "Are we to go back throughout history and anyone who has misbehaved in any way, or who has broken the law, or who has committed some kind of offense, are they always going to be cut out? Are we going to extrude them from our history? I don't know…."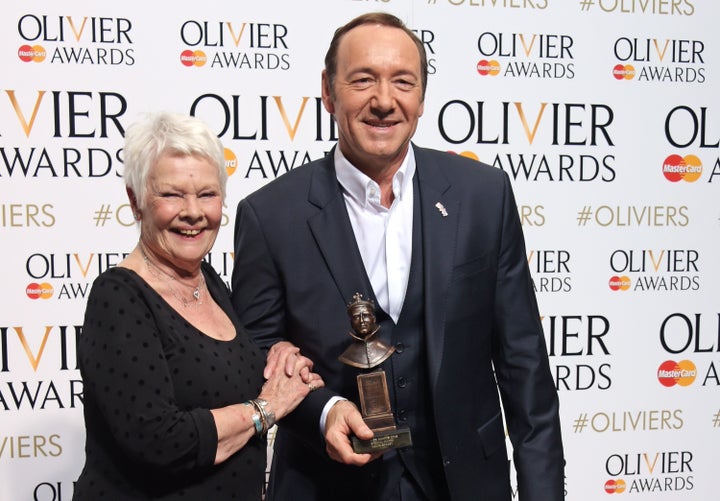 "But nevertheless, he is, and was, a most wonderful actor," she added. "I can't imagine what he is doing now. And a good friend."
In October, Anthony Rapp came forward and said that Spacey sexually harassed him in 1986 when the actor was 26 and Rapp was only 14.
Spacey responded to the report by publicly announcing that he was gay for the first time and that he didn't remember the incident, as it "would have been deeply inappropriate drunken behavior."
"I am sorry for the feelings he describes having carried with him all these years," Spacey said in a statement.
Since Rapp's report, many more men have come forward to accuse the actor alleged sexual assault. In November, over 20 people accused Spacey of alleged "inappropriate behavior" during his tenure at the Old Vic Theatre in London from 1995 and 2013.
As a consequence of the allegations, the actor's character was declared dead in the latest season of "House of Cards."