Julian Assange has been charged by the US government with conspiracy to commit computer intrusion, according to an indictment released after his arrest.
The WikiLeaks founder appeared in the dock at Westminster Magistrates' Court on Thursday, in front of a packed public gallery and a full press bench.
He was found guilty on a separate count of breaching his bail and could face a jail sentence of up to 12 months when he is sentenced at Crown Court.
Scotland Yard earlier confirmed he was arrested on behalf of the US authorities, as well as for breaching his bail conditions.
In a statement released ahead of his appearance, the US Department of Justice said he had been arrested in connection with a federal charge of conspiracy with Chelsea Manning to commit computer intrusion for agreeing to break a password to a classified US government computer.
According to court documents unsealed today, the charge relates to Assange's alleged role in one of the largest compromises of classified information in the history of the United States.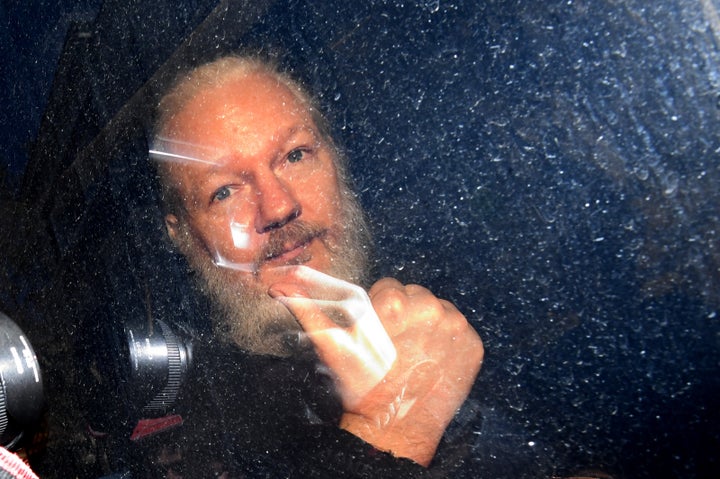 If convicted, he faces a maximum penalty of five years in prison, the statement says.
At the hearing, he pleaded not guilty to a charge that he failed to surrender to custody as required for an extradition order to Sweden.
His lawyer said he would not give evidence but will argue he had a "reasonable excuse" for not surrendering to custody.
In an embarrassing moment for the court, Assange was later told he was actually accused under section six, not section seven, of the Bail Act and must re-enter his plea.
When asked if he still denied the charge, Assange replied: "I'm a bit curious as to why there's been this sudden change".
The judge explained: "The computer produced the wrong section."
Five pro-Assange lawyers had earlier arrived at the court, carrying signs reading "Hands Off Assange" and "Free Press, Free Assange" joining a throng of journalists, TV crew and photographers.
With grey hair tied into a pony tail and long beard, Assange saluted the public gallery when he was brought into the dock before giving a thumbs up.
Members of the public were warned by District Judge Michael Snow they would be in contempt of court if they recorded proceedings.
As he waited for the hearing to start, Assange could be seen reading a book by Gore Vidal's History of the National Security State, which is thought to be the same book he was clutching as he was dragged out of the Ecuadorian embassy earlier.
Towards the end of the heating the judge described Assange's defence as "laughable".
He said: "Mr Assange's behaviour is that of a narcissist who cannot get beyond his own selfish interests. He hasn't come close to establishing 'reasonable excuse'."
Assange was remanded in custody and will be sentenced at Southwark Crown Court at a date to be set.
He will next appear at Westminster Magistrates' Court on May 2 by prison video-link in relation to the extradition case.
As he was taken down to the cells, he waved to the public gallery.
Earlier in the day, he could be seen struggling and screaming as he was dragged out of the Ecuadorian embassy by officers from the Metropolitan Police following the Ecuadorian government's withdrawal of asylum.
As he was bundled into the van, Assange was heard shouting: "The UK must resist".
A witness said: "He was screaming. He was struggling, I think he felt a bit weak. He was surrounded by police."
Following the arrest, the Home Office published a factsheet on extradition.
A Home Office spokesperson said: "We can confirm that Julian Assange was arrested in relation to a provisional extradition request from the United States of America.
"He is accused in the United States of America of computer related offences."
The factsheet details the extradition process including the role of the home secretary, what human rights considerations need to be taken and the role of the judge at the extradition hearing.
The US embassy in London has also published a generic guide to extradition between the two countries.