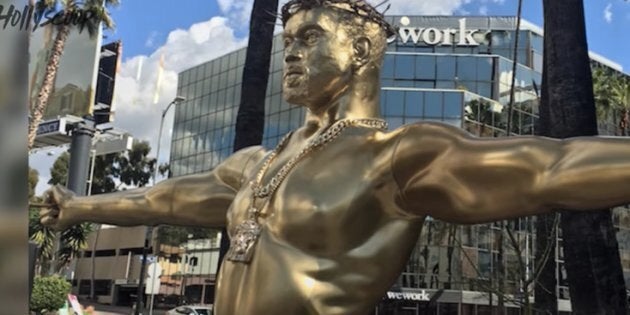 The work is titled "False Idol" and is more a commentary on how West is treated by the press and public than an act of worship, the artist explained.
"He's a genius at writing and producing but he's not a God, and that's where we put him," the artist told The Hollywood Reporter. "Until there's an issue in his life or a hiccup in his career, then we crucify him."
Plastic Jesus previously did another provocative public work around the Academy Awards ― a statue of an Oscar snorting cocaine in 2015, the trade publication noted.
His current project, in collaboration with Las Vegas artist Ginger, is eventually headed to the old Tower Records space for an art show, according to his Instagram.
West, of course, is no stranger to Jesus associations. He once wore a crown of thorns as Jesus on a Rolling Stone cover and posed Christ-like under the Christ the Redeemer statue in Brazil. He also called a song "Jesus Walks" and brought a Christ look-alike onstage during his Yeezus tour a few years ago.