Karl Stefanovic may stare down some of the biggest names in the Australian media on his panel show "The Verdict" -- but when it comes to snakes, he is absolutely petrified.
The "Today" co-host displayed his phobia on-air this morning during a segment about how to keep safe during snake season, during which wildlife expert Ben Britton had brought some snakes in for show and tell.
Stefanovic chose to "stay safe" by standing pretty much behind a television monitor for the duration of the segment.
When urged to come closer to a tank containing a death adder, Stefanovic said, "Something can happen with those tanks. They get out and bite you and then you're dead."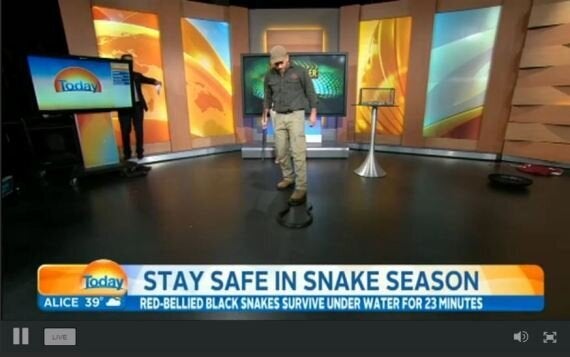 Stefanovic was also not impressed when Britton revealed a red belly black snake hiding under a sand bag.
"Those things kill," Stefanovic exclaimed. "Dude, he's coiling up to strike."
"Today" news presenter Sylvia Jeffreys was similarly jumpy, noting "I'm feeling very exposed all of a sudden."