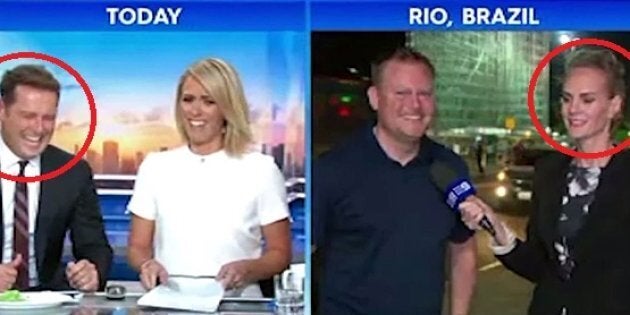 Today Show host Karl Stefanovic has been announced as a finalist in the NSW's LGBTI community service awards for his apology to the transgender community after he made fun of them on national television.
Stefanovic is among 34 finalists in the NSW LGBTI community service awards ceremony -- called the Honour Awards -- which for the past decade has recognised outstanding achievements within or contributions to NSW's LGBTI community.
His nomination comes following his on-air apology to the transgender community after a poor-taste joke he made about "trannies" during a morning broadcast (which can be seen below).
HIV support and LGBTI health organisation ACON said selecting the finalists was a difficult process because "the achievements and contributions of all the nominees were remarkable in their own way."
"The judges agreed that the finalists they selected exhibited a truly outstanding commitment to supporting the LGBTI community and deserved to be recognised for their efforts, Acting ACON CEO Karen Price said in a statement.
"The calibre of submissions in the Media category was particularly outstanding, which is why the judges included two extra finalists in that category."
In July Stefanovic was interviewing Channel Nine journalist Christine Ahern about an incident in which she and her crew claimed they were set upon by would-be muggers in Rio.
Ahern labelled the group as "transvestites", and Stefanovic seized upon the descriptor, joking with fellow presenters while the soundtrack to 'Priscilla Queen of the Desert' played in the background.
Stefanovic later apologised on air.
karl stefanovic is a finalist in an LGBTI award... for apologising after using a trans slur

— Casey Briggs (@CaseyBriggs) September 5, 2016
"To anyone who found the segment funny, please understand it was an ignorant jibe at the expense of a beautiful community already battling against the odds for main stream acceptance," he said.
"I'm an ignorant fool at times and my humour is skewed in a very strange fashion. I get it wrong and probably always will, but as a result of yesterday, I have truly learned a lesson.
In all there were 170 nominations received across eight categories covering the business, health, education, community, legal, political, media and cultural sectors.
Media Award Nominees

Shannon Molloy (Daily Telegraph – RendezView) – for his evocative and deeply personal opinion piece on his own experience with bullying and why programs like Safe Schools are necessary.

Janine Cohen (ABCTV – Australian Story) – for telling the story about sixteen-year-old Georgie Stone, who has battled prejudice, bullying and legal hurdles relating to her transition.

Monique Schafter – for her body of work on the 7:30 Report and ongoing championing of LGBTI content on the national broadcaster.

Patrick Abboud (SBS) – for his consistent commitment to the reporting of LGBTI issues across national television, radio and online, along with presenting the national broadcast of the Sydney Gay and Lesbian Mardi Gras.

Mark Whittaker (SBS) – for his work on investigations into gay-hate crimes in Australia, most notably crimes committed in South Australia and Adelaide.

Karl Stefanovic (Nine Network) – for his ground breaking and earnest apology to the transgender community following unfortunate comments made on the Today Show, and also for a subsequent 60 Minutes piece on young transgender people.