It's been quite the year for power couple Nicole Kidman and Keith Urban. Kidman's performance in HBO's "Big Little Lies" was fawned over by critics, while Urban has been praised for his album "Ripcord."
At the 2017 CMT Music Awards in Nashville on Wednesday night, Urban walked away with four wins, including Video of the Year, Male Video of the Year, Collaborative Video of the Year and Social Superstar. But in his eyes, it's his wife who keeps it all moving.
During his acceptance speech for Male Video of the Year, the 49-year-old singer thanked Kidman for being alongside him every step of the way, sharing her insight on all his projects.
"I want to say a massive thank you to my wife, Nicole. You have no idea how much of what I do … she's involved in every little piece of it," he said, adding as the camera panned to a blushing Kidman, "She hates me saying this, but I want it to be said. She helps me so much making these videos what they are."
Urban also shouted out to the couple's daughters, Sunday, 8, and Faith, 6.
"To our little girls at home, Sunny and Fifi, we're going to bring you next time for sure!"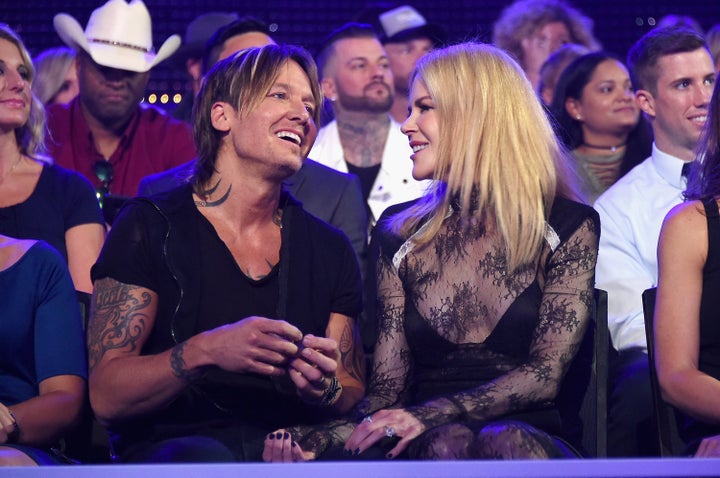 Kidman has made sure to thank her husband for all the support he gives her, too. Although her role as abused wife Celeste Wright on "Big Little Lies" was tough to play, Urban was there for her every step of the way and encouraged her to get into the mindset of her character.
"He's an artist, so he knows that the work is the work, and obviously this character is ... it's important in terms of the way in which the storyline plays out," she told E! News.
Kidman also opened up about balancing her career and family with The Hollywood Reporter this week, saying that there's no way she can take on every project she's offered if she wants a stable home life.
"I'm now at a point where I have to go, 'What is that going to cost me? And what is that going to cost the people I love? Do I want to leave now to do this?' Men have that, but they don't have it in the same way that we have it," Kidman explained. "We don't get the choices as much with our careers and our lives because a lot of it is, we have to be there to take care of everything still. Or I do."
Well, it's nice to know her husband appreciates all she does.