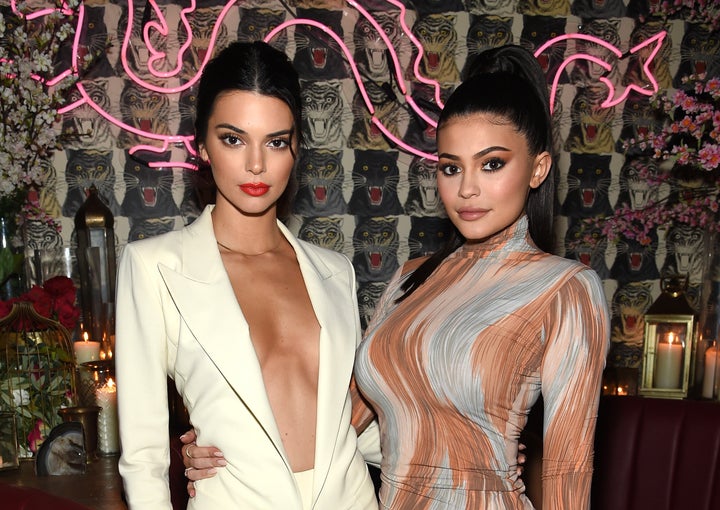 Caitlyn Jenner once predicted that daughter Kendall Jenner could win an Oscar one day ― and now we're a step closer to that nightmare realm.
The supermodel debuted a brutally on-point impression of her younger sister Kylie Jenner in a clip from the upcoming season 17 finale of "Keeping Up with the Kardashians."
Sporting a signature Kylie-colored wig, Jenner liberally applies some products from her sister's cosmetics line, hilariously overdrawing red lipstick onto her face and teeth in the midst of a serious giggle fit.
"Oh my God. It feels amazing on my skin," Jenner, clearly enjoying herself, says in the clip. "It feels so fucking good."
Then Kendall gives Kylie a call to show off her transformation while sitting at the dinner table with mom Kris Jenner and sister Kourtney Kardashian — and actually gets the makeup mogul's stamp of approval.
"Oh my God," the youngest KarJenner quips. "You look cute as Kylie."
It appears as if all the entire family dresses up as each other in the episode, with Kourtney channeling Kim Kardashian West and Kris wearing a blonde Khloe-esque wig.
But it's Kendall who really nails the impression, later parodying Kylie's makeup tutorial videos by holding one of her matte lipkits up to the camera.
"This is One Wish," she says, trying not to break into laughter as she reveals some an arm full of messily drawn swatches. "And this is what it looks like."
And while the rest of the family is current squabbling with Caitlyn Jenner, the former Olympian is firmly in support of an acting career for Kendall, who's previously made appearances in "Hawaii Five-O" and a cameo in "Ocean's 8" alongside her sisters.
"Honestly, I think it would be Kendall," Caitlyn said when asked which family member could win an Oscar. "If you've noticed all the things that she's done on-camera, outside of the show, she's just been brilliant."
"She's so good at what she does," she added. "I don't know if she wants to do [acting] yet, 'cause she's so successful at modeling. But at some point, I think she should do that, and I think she'd be very good at it."
Stranger things have happened ...