Meet Georgie. An 11-week-old Tabby who is still getting used to the name, after she was rescued from a drain in the New South Wales surburb of Georges Hall on Thursday.
The kitten had been sitting in the drain of a nursing home car park for days. When a family visiting a relative heard the cry of little Georgie they called RSPCA NSW who soon arrived on the scene to rescue the cute feline.
"I had to be a bit careful because she actually went to jump out into about one and a half metres of sewage water and she could have drowned," Inspector Tanya Dominguez told The Huffington Post Australia.
"As she went to jump out I caught her in mid-air and pulled her out of the drain."
Georgie doesn't have a microchip so it will be near impossible for the kitten to be returned to her first home, said Dominguez, but the good news is she is already very much at home in comforting arms and in the presence of food.
"It's so exciting to rescue a little kitten that's so incredibly friendly," Dominguez told HuffPost Australia.
"It doesn't happen that often, so it's really heart warming and rewarding for inspectors to rescue an animal that can then be re-homed and find an amazing family and have a great life.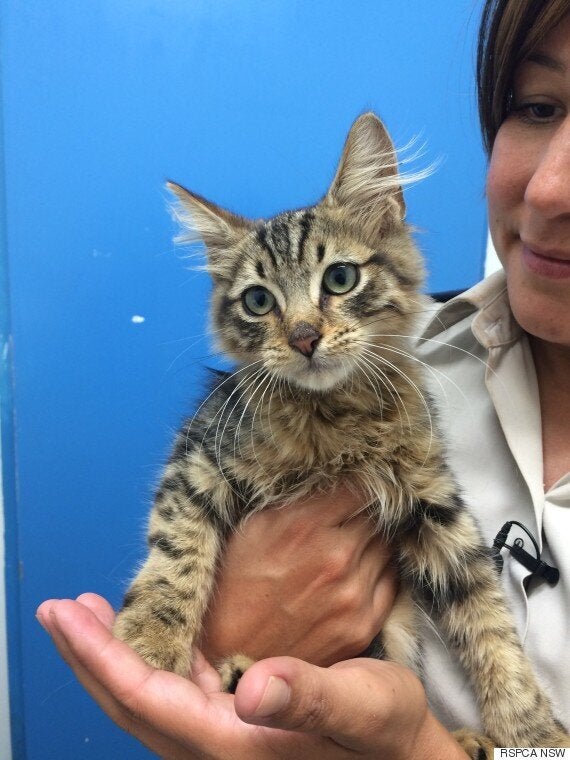 "She was already purring just after I rescued her, even though she got such a fright with me pulling her out of the drain, so she's going to make a wonderful pet for someone someday, very soon I hope."
Unfortunately Dominguez' kids are highly allergic to cats otherwise she "absolutely" wouldn't have been able to resist taking Georgie home. Can you?
Well, RSPCA NSW will wait seven days in case Georgie is recognised by her first owners, but if no one calls she will be up for adoption in a fortnight.