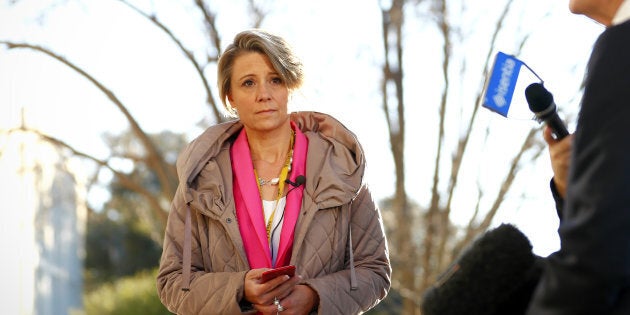 Former NSW premier and Sky News host Kristina Keneally will stand as Labor's candidate in the Bennelong by-election.
The popular commentator will run against John Alexander, the Liberal MP who was forced to stand down from the parliament last weekend after discovering he was also a citizen of England, in breach of section 44 of the Constitution.
Alexander will be able to stand again for the seat after renouncing his British citizenship.
Keneally was first elected to NSW state parliament in 2003, and served as premier from 2009 to 2011. She resigned from politics in 2012, and later became chief executive of Basketball Australia. She joined Sky News in 2014.
Labor leader Bill Shorten officially announced the news of Keneally's candidacy on Tuesday morning on Twitter, before a press conference.
"In recent conversations that Kristina and I have been having, she has been increasingly expressing the same sort of frustration about the Turnbull Government that I hear from wherever I go in Australia," Shorten said at a press conference.
"The people of Bennelong at this by-election have an opportunity to send a wake-up call to Malcolm Turnbull that he and his Government will never forget and we are fortunate to have Kristina to agree to be Labor's standard-bearer."
Keneally told a story about recent difficulties she had in lodging Medicare forms for her son, saying it represented the issues people had in trying to deal with government services.
"I was angry for those people who were sitting there waiting. I was frustrated and I thought to myself, 'This is what happens when the Liberals get in government.' They cut services. They cut Medicare services," she said.
"I am running because this is a moment, this is an opportunity for the community in which I live to stand up and say to Malcolm Turnbull, "Your government is awful. Enough is enough." We have had enough of your poor services. We have had enough of your poor policies and we have had enough of your poor leadership."
"Malcolm Turnbull's leadership and the Liberal Party's policies are not serving this community well, they're not serving Australia well."
Keneally was born in the USA, and considering the Bennelong by-election has been brought about due to Alexander's foreign citizenship, she was asked about any possible American citizenship she may hold. She stated that she had renounced her U.S. citizenship in 2002, prior to running for state parliament, and just days ago shared proof of her claims on Twitter.
She also admitted that she did not live in the Bennelong electorate area, but "800 metres from the border". However, Keneally detailed at length her connections to the area, including how her husband attended school in Ryde, how she had lived and worked in the area for many years, and how she now works there "every day".
"I come into this community every day. I spend most of my day in Bennelong. I spend my day working here at Macquarie University," she said.
"Some of you may be aware I work at Sky News - although probably not after today - and that's up the road at Macquarie Park. We spend our time getting groceries at Top Ryde or Macquarie This is where I live, where I work, where my family is."
Keneally is just the latest high-profile Labor candidate in the area, following the example of former ABC TV host Maxine McKew who successfully ran against Prime Minister John Howard in the 2007 election.