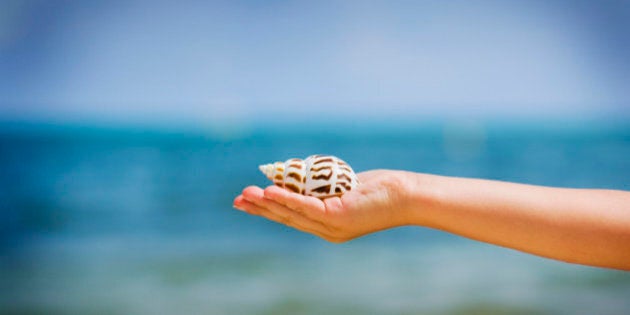 I tell Dad the secret I'd kept for a year and he breaks into a sympathetic smile.
In hindsight, I should have told an adult earlier. But kids can be stubborn. Even with secrets they think are lethal.
I grew up understanding danger thanks to the fact that my family didn't do resort holidays in Bali or the Whitsundays. Instead, we were much more likely to lug a week's worth of water to a near-deserted island or tackle Kakadu 4WD tracks in a station wagon better designed for the suburbs.
On one such holiday, on the isolated Lady Musgrave Island in QLD, we'd been snorkeling with turtles, playing with sea cucumbers and beach combing the crushed-coral shores.
Then I touched a deadly cone shell. These poisonous, jewel-colored shells had been the hot topic of conversation on the road trip to the Fraser Coast.
"We'll be so far away from doctors and there are no phones, so you can't risk picking up the shells," my Mum had said. "They can kill you."
It was shame, not fear that set in as seven-year-old-me began to come to terms with my imminent death. I'd been so good all week, resisting the impulse to touch the brilliant pink, blue and purple shells. Then, looking down into the shallows that morning, I saw the most unbelievable blood orange shape glimmering in the sand. I reached down to pick it up, realising too late that it was the deadly cone shell.
I looked up at the smudge of island bobbing above the high tide mark in front of me. I knew Mum would be there, maybe reading a book in the shade, and I couldn't bare to disturb the scene with news of my deadly mistake.
I remember thinking it wasn't a bad place to spend my final hours -- or was it minutes? I didn't know. I decided -- rather democratically -- to spend half the time with Dad and half with Mum.
Walking around the crushed coral sands of the island, it didn't take me long to find Dad. He was waist deep in water, his fishing rod jerking back and forth.
I swallowed my concerns and waded out, determined to have a memorable moment before I left this sunny earth. As I splashed out, though, I saw that he was reeling in a massive tom tom fish and it was a beauty!
He saw me and waggled it in the air. He told me about how white tip reef sharks visited him, but he slapped his rod on the water surface to scare them away.
I told him how the turtle came back again, and this time he let me clean the green slime from his shell.
Together we baited hooks and stood in happy silence as the sun cast dancing patterns from the water.
I knew, though, that it was time to say goodbye to Mum. I cut through the guano-stained path across the centre of island, past the big mulberry trees to our camp. I found her reading a book in the nylon hammock and, without a word, I snuggled in beside her.
Pressed against Mum, as she quietly stroked my hair, I felt like I was welling up with a love and a melancholy I barely understood. I loved these people so much. I don't want to leave them.
I knew tears were spilling from my eyes when my brother raced in, wearing a neon cap and graphic tee.
"Quick, we've got to get a photo of the sunset!"
Excitement set in as we grabbed the family camera and ran full speed to the sandy isthmus at the far end of the island to glimpse the impossibly large golden orb sink into the water.
I didn't die that night. Or the day after.
For months to come, I would occasionally think of that family holiday and remember with a terrible certainty --- that's right, I'm dying.
It was probably a year later that I plucked up the courage to ask Dad: "How long does it take to die from cone shells?"
He furrowed his brow: "Maybe an hour," he said before immediately seeing the relief on my face. "Why?"
"I touched one at Lady Musgrave Island," I blurted out, instantly feeling like the poison had been sucked from my deadly secret.
He took me in his arms and told me I wasn't going to die. He also told me that if it happened again I should probably tell an adult.
Family holidays are where I learned about the world. Where I tested who I was. Where I discovered I was stronger than I thought.
Strong enough to share my secrets.