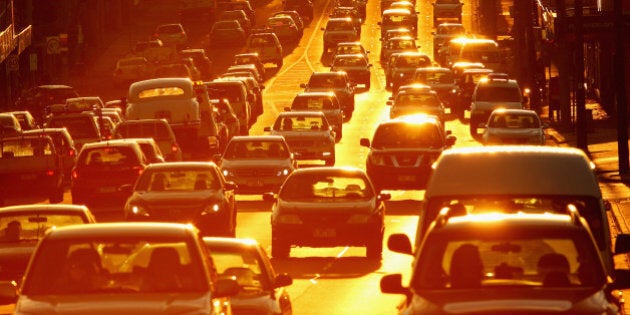 A few years ago a prominent Australian wrote a book in which he argued that there was little use for public transport in Australia.
"Mostly,'' this well-known person wrote, "there just aren't enough people wanting to go from a particular place to a particular destination at a particular time to justify any vehicle larger than a car and cars need roads.''
You don't need to be a transport expert to know that this view is outright nonsense - so absurd it is laughable.
The author was none other than Prime Minister Tony Abbott, writing in his 2009 political manifesto Battlelines.
Now that he is running the country, Mr Abbott has backed up his bizarre view by refusing to invest a cent in urban rail, instead focusing on building new toll roads.
He has also cancelled billions of dollars of investment that had been allocated by the former Labor Government to new urban rail projects including the Melbourne Metro, Brisbane's Cross River Rail project, Adelaide's Tonsley Park project and Perth public transport.
Mr Abbott's exclusive roads agenda is a policy cul-de-sac which will have far-reaching effects on urban quality of life in Australia.
The National Infrastructure Audit by Infrastructure Australia, released in May, found that in 2011 Australian urban trains covered 46.3 million passenger kilometres each day.
It also forecast that by 2031 demand for public would rise by an average of 89 percent across all Australian capital cities.
A great example of the problem can be found in the Brisbane Central Business District, which has only one rail crossing of the Brisbane River, the Merivale Bridge.
Transport experts have warned that the capacity of the bridge will be reached within five years, which was why the former Labor federal government funded the proposed Cross River Rail project.
When he came to office, Mr Abbott cancelled the project.
The need to invest now should be a no brainer.
While Battlelines clearly established that the Prime Minister has some kind of ideological prejudice against urban rail, he justifies this by saying that it is states that run urban rail networks.
Of course, the fact is that state governments operate both the rail and road networks in their jurisdiction. The first role of the Commonwealth is to manage the economy and ensure it is in the best shape to produce jobs.
As the Infrastructure Australia audit pointed out, traffic congestion cost the nation about $11 billion in 2011. It forecast that without corrective action, the cost would increase to $53 billion a year by 2031.
Unless we take steps now to reduce traffic congestion by investing in roads and urban rail, the problem will assume such monstrous proportions that it will act as a handbrake on national economic productivity. If that is not core business for the Commonwealth, I don't know what is.
The case for action on public transport becomes even clearer in the context of changes to patterns of jobs growth in Australian cities.
Two decades ago, jobs growth in cities was strongest in the suburbs in sectors like manufacturing and retailing. Average income earners could take advantage of the affordable housing in the suburbs and find a job near their home.
While housing is still most affordable in the suburbs, jobs growth has shifted to the inner suburbs in services sectors that are thriving in the digital age.
This means more and more Australians find themselves living in drive-in, drive-out suburbs, where they can afford a house but can't find a job.
They spend hours a day on the roads commuting from the suburbs - precious hours they should be spending with their families.
The drive-in, drive-out suburb phenomenon is the greatest demographic challenge facing urban Australia. While it affects productivity, it's also about equity, in that there is a risk that the tyranny of distance will exclude people in the outer suburbs of cities from the jobs market.
With four out of five Australians living in cities, there's a clear case for all governments need to work together on this problem.
That means new and better roads and better public transport, as well as policies to address housing affordability and increase housing density along established public transport corridors.
It also means getting the National Broadband Network right with fibre-to-the-premises, which will overcome the tyranny of distance and facilitate high value job creation outside of capital city CBDs.
Our nation will only master traffic congestion with a multi-faceted policy approach that includes investment and commitment from all levels of government, including the Commonwealth.
The problem is too profound and its effects too far-reaching for political buck passing.
CORRECTION: An earlier version of this post incorrectly stated that traffic congestion cost the nation about $11 million in 2011. The correct cost was in fact $11 billion. The piece has been updated to reflect that change.