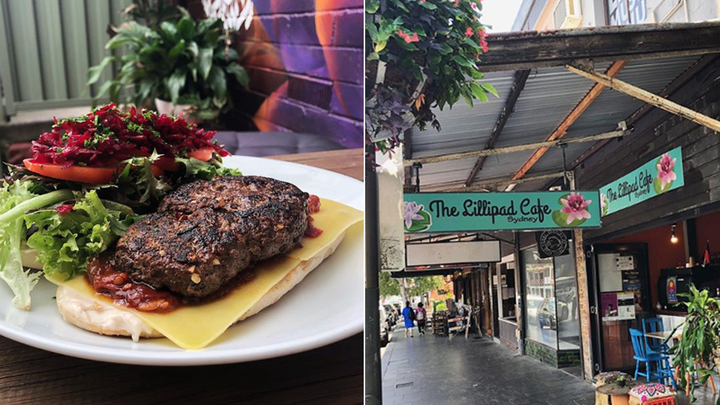 A year after moving from Cairns to Sydney to open a cafe that offers "something for everyone", getting attacked for serving meat as part of an Aboriginal-inspired meal was the last thing Nyoka Hrabinsky thought she'd be dealing with.
Hrabinsky, a proud Yidinji woman from the Indigenous community of Yarrabah (53 km from Cairns), runs Glebe's Lillipad Cafe with her husband, Laszio.
The pair were excited to introduce their kangaroo burger as a respectful nod to Survival Day. They worked with local elders for three months to create the spiced patty with wattleseed, pepper leaf and salt bush — but Hrabinsky's nod to her heritage was clouded by protest against the use of kangaroo meat.
She told HuffPost Australia an "opinionated group" came into her store to heckle her over the kangaroo burger, even though the menu offers meat options as well as gluten-free, vegan and vegetarian items.
"They came around and asked questions and were demanding answers as to why we were selling kangaroo meat," Hrabinsky told HuffPost Australia.
"We were really busy in the cafe so I didn't have that much time to talk to them. I said, 'I'm sorry but this is not a vegan-only cafe, we're promoting traditional foods and flavours.'"
Photos of the burger have since been shared in Facebook groups, and Hrabinsky confirmed that unknown callers have phoned her husband to blast them about the menu item.
"Horrified that The Lillipad Cafe Sydney is proudly serving kangaroo burger. The animals served today are from commercial shooters and NOT from traditional farming," one Instagram user wrote alongside a promotional picture of the burger.
"Even during the drought and fires, NSW government are [sic] still allowing the mass slaughter of this native animal which has been here millions of years."
Although Hrabinsky has tried not to read them, she says the negative comments "made me feel really ashamed. Ashamed of who I am and my culture and where I come from. I felt judged."
Noting that their business is not the only cafe that sells kangaroo meat, Hrabinsky said, "I don't understand why they're just targeting us."
Growing up in Queensland's Cape York, Hrabinsky spent a lot of her childhood "off the grid" and eating traditional tucker like wallaby. She said it's her vision to serve native foods and flavours that cater for all to "keep Indigenous culture going" and educate others.
"This is what we eat," she said, adding that 98% of her menu can be made vegan.
"We've had a lot of support from vegans and we cater to them, we're about peace and happiness. I don't want to point fingers."
Despite the online hate, Hrabisnky pointed out that "So many vegans have been so, so supportive and on our side."
One Facebook user defended the cafe on the Feminism & Decolonisation Facebook Page: "This is the exact reason vegans have such a bad name and it's why I'm very reluctant to tell people I'm vegan for fear of copping eye rolling or sarcasm or abuse."
"If First Nations people are able to access their rights and ability to hunt, gather etc traditionally I'm all for it!" they added.
"I saw the post slamming this cafe in a vegan group I'm in and I wasn't the only one to tell the poster to put their energy into something more effective and leave small business alone," wrote another.
Is Kangaroo Meat OK To Eat After The Bushfires?
Consuming kangaroo meat was a controversial and emotional topic even before the current bushfire crisis, said Mark Eldridge, principal research scientist at the Australian Museum.
"People are upset right across the board," he told HuffPost Australia.
"Although there are kangaroos in the bushfire-affected areas, those are not the areas where kangaroos are harvested for meat. In sense, it's putting together two issues that aren't related."
The drought has caused a small decline in kangaroo numbers, Eldridge said, but the current Australian kangaroo population is not "under any threat."
"We're talking about a very widespread, very abundant species that do fluctuate enormously in numbers but according to the base numbers, even in really bad years, there's still millions of kangaroos out there," he said.
"Individual kangaroos in individual areas have been impacted by these fires but the species as a whole are not under any threat. We don't need to be worried about them."
The kangaroo harvest is tightly regulated each year, and data is collected to set a harvest quota which is usually 10% and 20% of the estimated population, Eldridge explained.
"Thresholds are set in the system, we have the data. From a scientific point of view, the data shows it to be a sustainable harvest," he said.
"Whether you personally want to eat kangaroo, it's a different question."
'Cancel Culture' And Small Business
When a person or business is "called out" on social media for being offensive, non-pro-social, or for marketing a highly contentious product, it can be severely damaging, said marketing expert and professor Gary Mortimer from QUT Business School.
"Their product, brand or personality is 'cancelled,'" Mortimer explained, noting that it is "very difficult for a business owner to control the conversation" once controversy starts to brew on social media.
"Comments can be both highly positive and negative, and because [of] the anonymity associated with commenting, sadly, we often have people with little understanding of the situation weighing in," he said.
Luckily for Glebe's Lillipad Cafe, many people in both the vegan and Indigenous communities have supported the husband and wife team.
Andrew Jakubowicz, emeritus professor at the University of Technology Sydney, argued that racism is a factor in the criticism of the cafe: "The attack on Lillipad is clearly a racist attack, where 'moral high groundism' is used to justify and exonerate the racism that would otherwise be evident" and to "deride and harass people of colour, Jews, Muslims etc., by placing animal welfare ahead of any consideration of culture or human rights."
Hrabinsky stressed that her cafe is a safe space with an inclusive menu.
"No matter who you are, what gender, what race, what sexuality, what belief, when you come into the cafe, it's a cafe that's a safe space for everyone no matter who you are."
"Overall it's really crap what happened, but this has allowed me to become a stronger Aboriginal woman for standing up for what I believe in."