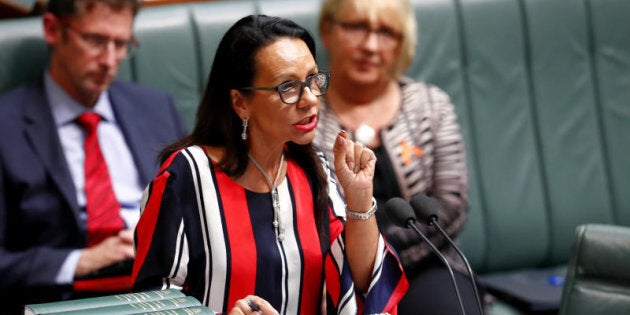 CANBERRA -- Linda Burney knows all too well how hard it is to show political ambition as a female politician and how something close to 'imposter syndrome' can drag on Australia's political talent.
Despite views from senior colleagues that she is "awesome", "loyal" and talented, she discovered the urge to say someone else would be a better fit for Labor in the seat of Barton when the offer came to jump from NSW politics and run federally.
Burney is taking part in Wednesday's "Girls Takeover Parliament" event where young women are encouraged to seek a career in politics by shadowing or "taking over" federal parliamentarians for a day.
The woman who has been a senior public servant, minister, deputy leader, shadow minister and National President of the Australian Labor Party recalled having to dispense with the 'no, not me' narrative running through her mind before the move to Canberra.
"What motivated me to say yes is very much to do with the fact that women and we as women often don't often put ourselves first and this was not putting myself first," she told HuffPost Australia.
"But often we say 'oh no, I am not qualified'. There is someone else who should go first. I don't think I can do that and doubting our capacity and often not doing what blokes do which is say 'yeah I will have a crack at it' and sometimes not being the best qualified.
"I was in a good position. I had that job as long as I wanted it. I had great portfolios, but I just realised that my time had really come there, and this was an opportunity knocking that might not knock again.
And talking about this experience has an effect. Younger women sometimes also have to learn that it is OK to say "yes".
"That's up to people like myself to go out and talk about it, and I do regularly, often talk about what we just talked about," she said.
"That experience of how come you went into parliament, 'Why did you do it?' Write about it, advocate it, that is what we can do as individuals and it has an effect."
And yes, that is Burney's story too.
"I think it is much harder for women," she said. "I think it is less acceptable broadly in the community and certainly within the media."
There are those questions that only female politicians get, like about child rearing and appearance.
"I have heard women say well 'why would I put myself up for it if this is the attitude that people take?' Burney tells HuffPost Australia.
"It is a critical mass that will change that.
"And you know, that somehow or other the only way that you can get ahead is to make a decision not to have children and be a complete commitment to your job. It is just not true."
But there will always be sacrifice, including privacy and family time.
"The sacrifice in this job is your family," she said. "And that is particularly for women I think for women with young children.
"I am not saying it is not for men too. I think it is, but it is particularly a challenge for women."
Plan International Australia's "She Can Lead" report, released Wednesday to coincide with "Girls Takeover Parliament", calls for a ban on sexist media reporting, the offering of political internships and getting political parties to enforce 50/50 targets or pre-select women in winnable seats.
According to Burney, identifying and mentoring young candidates is the key, instead of letting female nominations happen organically.
"Because that is not always going to work. And you pre-select young women," Burney said. "And I know that in the last state election that I was involved in we deliberately pre-selected women in winnable seats.
"It worked and it shows in the NSW parliament."
"And you know you have got people in this parliament like Penny Wong and Tanya (Plibersek) and Jenny (Macklin) and a whole range of other women who absolutely, absolutely make sure that the affirmative action rule is applied. And that is working."
After 13 years in the NSW parliament, Linda Burney entered federal parliament in 2016 as the first Indigenous female member of the House of Representatives. The Wiradjuri woman had a tough upbringing in regional NSW growing up apart from her Aboriginal family and struggled with archaic school lessons, at age 13, that Aboriginal people were "stone age".
"I think that 13-year-old girl, and the life that she had, made me the independent thinker that I am today and I think the resilient person," Burney said.
"Linda is awesome," colleague Anthony Albanese told HuffPost Australia, adding that he felt Burney was "a standout performer in the NSW Parliament" who just had to go federal.
"She is a loyal friend to people from all walks of life and there is not a trace of bitterness despite overcoming extraordinary odds. Linda is tenacious and fearless as she demonstrated in exposing the Centrelink Robodebt debacle.
"She is able to win an argument without rancour and is focused on outcomes. She has risen to be NSW Deputy Leader and National ALP President without being engaged in personality politics."
Burney wants to show all that there are "ways to achieve political outcomes without screeching and beating the table" and focuses on three political motivations: aboriginality, being a woman and being a change maker in the social justice space.
"My aboriginality is me. That is who I am," Burney said. "And it obviously interferes with the way I interact with people, the way I make decisions and I think my being a women that you make decision collaboratively, that you don't bump your fist down and expect things to happen your way or the highway.
"That issue of grace is always very important to me."