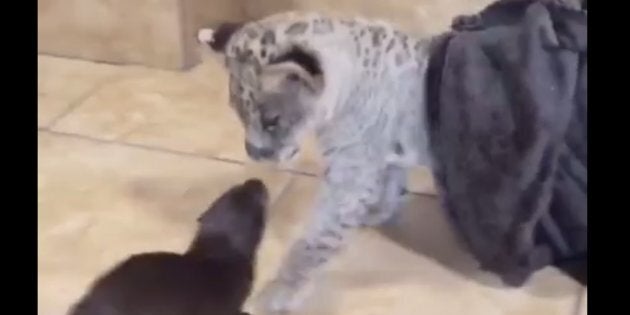 After freeing itself from the fabric, the feline begins playfully stalking its new pal ― who repeatedly leaps out of the way in what appears to develop into an impromptu game of tag.
"The cub is just playing with the otter in this video," Dr. Paul Funston, senior lion program director for Panthera, the global wild cat conservation organization, told HuffPost. "Play reinforces both hunting and social skills and is an important part of development, especially in social species like the lion."
"This video is way too cute," the ZWF wrote on Facebook Sunday.
While the video is indeed cute, the privately owned organization that posted it has been criticized for its conservation practices.
PETA reported in March that the business had been cited seven times for violating the federal Animal Welfare Act. Animal welfare groups also widely condemn the petting and handling of big cat cubs in captivity, something the foundation allows.
Popular in the Community