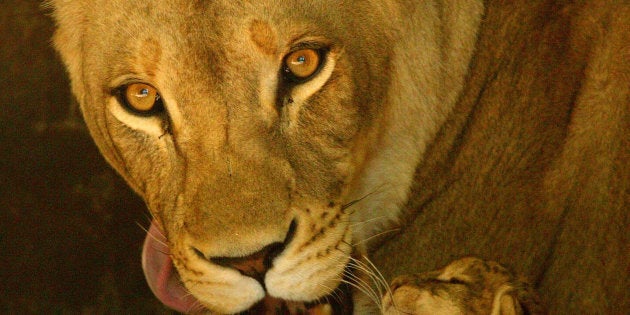 Adelaide Zoo's well known and loved African lioness Yizi has died suddenly on Tuesday after she underwent a procedure to investigate why she was growing a mane.
During a check-up, vets at the Zoo noticed that Yizi had started growing a mane and decided to conduct a CAT scan to determine the cause of the extra growth.
The 16-year-old lioness was taken from the zoo to the University of Adelaide's agricultural campus for the scan.
Adelaide Zoo vet David McLelland said that a high testosterone level was the most obvious reason for the mane growth.
"Her ovaries and her adrenal glands were two places we expected were going to be a source of that testosterone" he told the ABC.
The CAT scan, however, revealed a large and advanced tumour. It was considered inoperable as it was located close to a vein. So instead of operating, the vets inserted an implant into Yizi to regulate her hormones.
The ABC reports that Yizi was initially fine following the procedure, however, later died unexpectedly when she stopped breathing.
Yizi was born in 2001 in New Zealand, and was moved to Adelaide when she was young, with her sister Amani. She was known as the less dominant of the two sisters, however, Yizi is said to have tested the boundaries, especially during meal times. Each morning, the sisters could be seen running around their lion habitat, playing tag.
An autopsy is expected be carried out on Wednesday to determine the exact cause of Yizi's death.