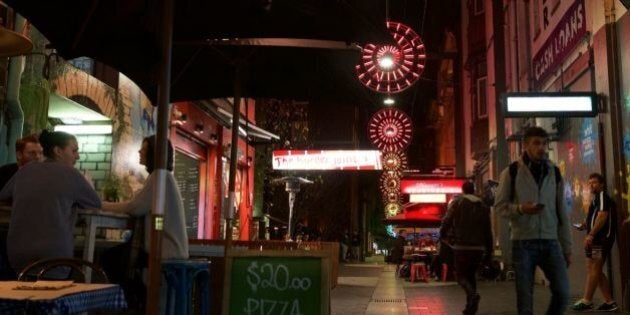 She has detailed the City of Sydney's more flexible approach to nightlife management in a submission to the NSW Government's review of lockout laws, which currently force businesses to bar entry to newcomers at 1.30am in Sydney's Kings Cross and the city centre.
"It was a sledgehammer when what we needed was a well-researched, evidence based, flexible response using transport, planning, licensing and police," Moore said in a statement.
"There is no doubt the lockout law made some areas, especially Kings Cross, safer and returned normalcy to residents and that must not change.
"But the lockout law has hurt Sydney's cultural life and had negative impacts on businesses, including live music venues, small bars and restaurants, and many people have lost their jobs."
Moore's submission recommends using crime data to find hotspots for anti-social activity, as well as areas where there are few problems, to create a more nuanced lockout system.
The submission also flags special conditions for small bars, along with doubling their allowed capacity to 120 patrons.
City Of Sydney's Lockout Submission Recommends:

A 12-month trial exemption from the 1.30am lockout for well-managed premises and live music and performance venues;
Reconsideration of the blanket 3am 'last drinks' rule, taking into account a venue's compliance history, planning controls, and local factors;
Continuation of the 10pm take-away liquor sales restriction as a measure to address pre-fuelling;
Replacing the existing liquor license freeze with new 'saturation zone' rules that consider the number and type of licensed premises in a given area, along with relevant crime data and transport options;
Making base trading hours until 2am consistent for all small bars across NSW, along with an increase in their capacity limit from 60 to 120 patrons;
Reduction or removal of the 'trading hours loading fee' (paid by venues considered 'high-risk' because they trade after midnight, are located in the CBD or Kings Cross entertainment precincts, or have a high patron capacity) for small bars and live music and performance venues;
Non-renewal of a venue's liquor license for ongoing non-compliance or representation on the 'violent venues' list;
The extension of train services on Friday and Saturday nights until after venue closing times, to ensure people can get home quickly and safely;
Establishment of a licensing panel, with representation from Liquor and Gaming NSW, NSW Police and the relevant local council to review and determine liquor license applications and revisions; and
Establishment of NSW Government-led working groups focusing on the development of a sustainable night-time economy, including support for the live music sector, and late-night transport improvements.
If all recommendations were to be implemented, the City would also recommend the NSW Government consider removing the 1.30am lockout for all venues.
"Well-managed late-trading premises are essential to our city's cultural life and economic growth -- and people need to feel safe, no one wants to wake up to blood and urine on their doorstep," Moore said.
"We need to get both right."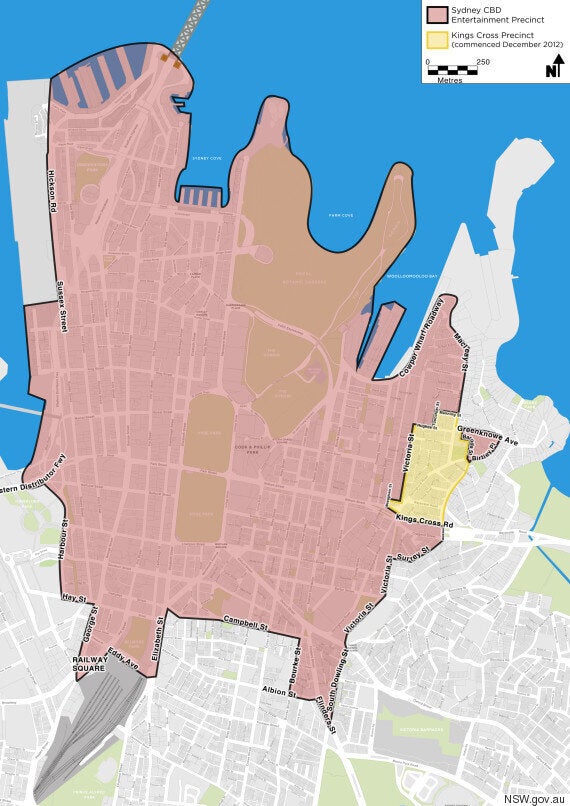 Current lockout laws affect all areas in red and yellow.
As well as baring entry to bars and clubs in the precinct after 1.30am, lockout laws also disallow alcohol to be served after 3am for hotels, registered clubs, nightclubs and licenced karaoke bars.
Small bars most restaurants and some tourism accommodation establishments are exempt.