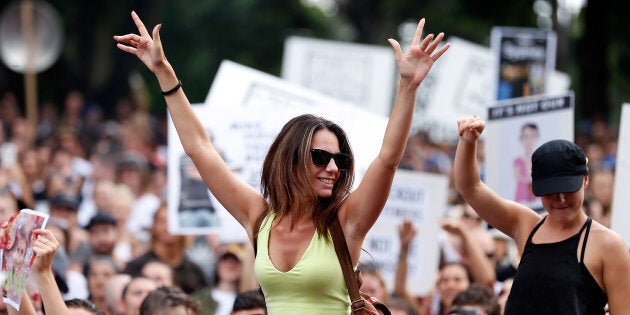 Around 1000 people have pledged to "Occupy Kings Cross" after NSW police launched court action to block a big anti-lockout protest scheduled for Saturday night.
Thousands of people were expected to descend on Darlinghurst Rd, King Cross for the rally organised by Keep Sydney Open but the commissioner of police launched legal action on Thursday in a bid to stop the action.
Lawyers for the commissioner were successful and the New South Wales Supreme Court ruled that a protest march against Sydney's lockout laws could not go ahead, with an order granted to prohibit the event. The Occupy King Cross event is not affiliated with Keep Sydney Open.
"With the cancellation of the planned Keep Sydney Open rally by NSW Police Commissioner Andrew Scipione and NSW Government, it's time to stage a PEACEFUL and FUN evening across all the venues in Kings Cross," the Facebook page states.
"If you care about your nightlife and don't agree with the lockout laws lets get together at 8pm in Kings Cross to show we do care about the cities businesses, venues, artists and more!"
Keep Sydney Open is said to have estimated that around 5000-7000 people would attend the now prohibited rally.
Outside court, the group's spokesman, Tyson Koh, reportedly told media he wasn't happy with the court's decision to can the rally.
"I think this really strikes to the root of why Keep Sydney Open exists and why people are really angry about the lockout laws," Mr Koh is quoted as saying.
"Not only can you not enjoy a night out at the weekend, but you also can't have a peaceful protest when you choose to as well."
On Saturday morning, the new Occupy Kings Cross Facebook event has 1,400 people interested in attending.
There has been sustained opposition to the lockout laws since they were brought in by former Liberal Premier Barry O'Farrell following a number of alcohol-fuelled deaths in Sydney.
Doctors, police and public health experts back the tough nightlife laws, but many businesses and some in the hospitality sector oppose them, saying the rules unfairly restrict trade and nightlife.