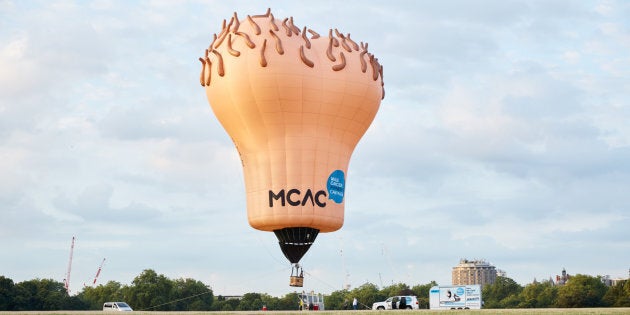 There is a giant floating pair of hairy testicles hovering above the United Kingdom right now. Do not be alarmed.
It's being called "the world's biggest cancer awareness tool", and it already has some -- like Virgin boss Richard Branson -- quivering with excitement. Skyballs is an initiative of the Male Cancer Awareness Campaign. It's big, it's hairy, and it's all about getting men to keep an eye on their own health, and thinking about their balls.
It has been four years in the making, after a campaign from British actor Chris O'Dowd to help fund the 100-foot balloon, and is finally taking to the skies.
Branson himself has been helping to promote the Skyballs.
"It's time to Mind The Bollocks! Early detection saves lives – it's a simple fact. Hopefully SKYBALLS will get people talking across the UK as it travels to various music and sport events," he wrote on the Virgin website.
"Too many men die of prostate, bowel and testicular cancer because they do not know how to detect the symptoms in the early stages. By detecting and treating the illness early, this can be prevented."
"In 2012, 768 new cases of testicular cancer were diagnosed in Australia. For Australian men, the risk of being diagnosed with testicular cancer by age 85 is 1 in 201," the Cancer Council said.
"The rate of men diagnosed with testicular cancer has grown by more than 50 percent over the past 30 years, however the reason for this is not known."
With a man named Richard, founder of a company called Virgin, writing about a giant inflatable set of genitals, we could get a bit silly here. We could have written something like "Dick and balls", or "ball(oon)s", or some things that are far more NSFW concerning pumps and blowing... but we're a family website, so we won't.
Suffice to say, if you see a giant pair of testicles floating above you, it is not necessarily a cause for alarm.