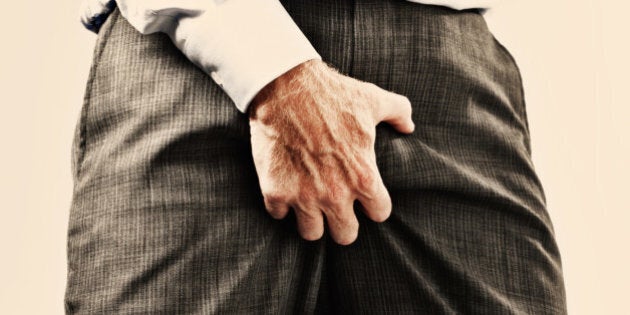 In June 2013, after almost four years of intense training, I was only months away from graduating as an Army Officer in the Australian Army. I was a fit and healthy 22 year old. But after being diagnosed with testicular cancer, I had surgery to remove one of my balls, endured months of chemotherapy and had very invasive surgery to remove all of my abdominal lymph nodes.
I felt like half of a man.
When I was first told I had to have my ball removed, I didn't really know what to think. Would it impact my sex life? Would I still be able to have children? Would others judge me? Would I be less of a man? Reflecting back, the fear of the unknown was the most painful part of the experience.
In order to keep some semblance of my physical manhood intact, I decided to opt for a prosthetic. It seemed to me that having a bit of symmetry down below would make me feel (and look) a bit more normal. I did find it mildly amusing that there were different types of balls to choose from. I felt which one was the best to hold, looked at all the different sizes, the slightly varying weights, and the different brands available. It reminded me of the time I went shopping for a tennis racquet. In the end, I just told my urologist to match it up with the other guy.
In the recovery room after the surgery I vividly remember my urologist coming in to have a look at his work. He examined my 'new' ball and gave it a bit of a squeeze. Like any man would do, I automatically jumped in shock. He quickly apologised and asked "did that hurt?" With a confused look on my face I responded with "well, no... but it should have".
Understandably, it took a while for me to adjust to the fact that I could no longer feel any real sensation in my right ball. However, soon enough I was back to normal and you can only guess what my new party trick was...
The other day my mate told me to "be a man" and "grow some balls" because I was having a night in with my girlfriend. With my poker face intact, I replied "so does that make me less of a man for only having one ball?" I wish I could have captured the look on his face, like a deer caught in the headlights, hilarious. Who would have thought that only having one ball would come in handy like this?
It was at this moment I realised, for the first time, what being a real man actually meant. I learnt that it isn't about how physically tough you are, whether or not you cry in 'The Notebook', or what size your ball(s) are. It may have taken me to get cancer and lose a ball to really understand this, but I am no longer afraid of sharing my emotions, I am no longer worried about how others may judge me, and I am now committed in using my experiences to help others in whatever way I can. I am more of a real man than I ever was before.
There is more to what makes a man than just his balls...