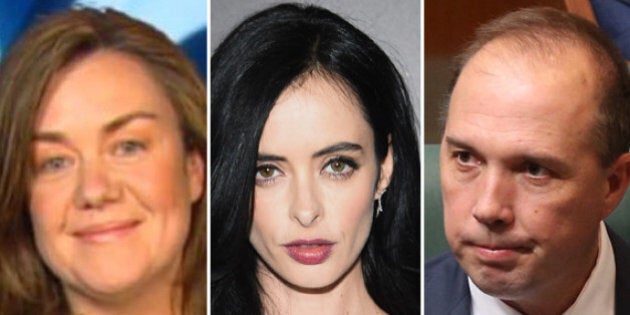 She's the shadowy superhero who shows women are intelligent, tough and seriously strong, and now Marvel character Jessica Jones is using her fans to defend an Australian journalist.
The fictional character took to Twitter to support News Corp national politics editor Samantha Maiden, who was called a 'mad f-----g witch' in a text message accidentally sent to her by MP Peter Dutton.
Jones -- clearly fresh from battling a mind-controlling super villain -- weighed in to say the sledge was a compliment.
If you've watched the series, available on Netflix in Australia, you'll agree Dutton should be quaking in his boots about now.
We've seen what Jones can do to people that piss her off -- not even best friend Trish, played by Australian actress Rachael Taylor, can talk her down when she's furious.
Maiden detailed the text exchange on Twitter but did not name the minister then or when she spoke to Today on Channel Nine.
"I had a Liberal MP accidentally text me this morning, clearly not meant for me describing me as a bit of a mad witch for writing this story, which I thought was spectacular," Maiden said on Today.
"He apologised and said that he'd sent the text to the wrong person so I think some of these MPs are having problems with their phones -- they might just want to put them down."
In a bid to avoid a, ahem, witch hunt, Dutton promptly outed himself as the sender of the text message.
The incident has overshadowed the initial reason why Dutton was calling names in the first place: Maiden had written about a public servant who made a complaint about former MP Jamie Briggs.
Briggs resigned last week after a female public servant complained about his conduct at a bar in Hong Kong.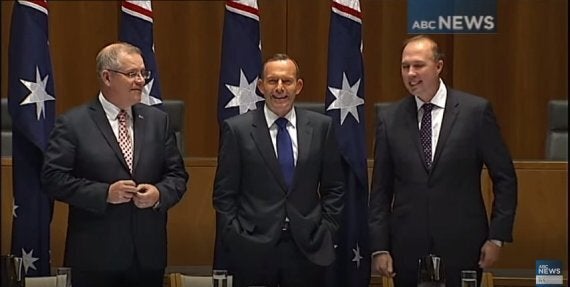 Peter Dutton (right) joking with then Prime Minister Tony Abbott (centre) along with MP Scott Morrison, who pointed out the boom mic above. Picture: ABC
"People should feel safe to raise their concerns without this kind of blowback," Hull said.
"It's never easy for a person who works in the public sector to raise inappropriate behaviour, especially when a politician is involved."
Dutton, meanwhile, is the top trending topic on Twitter and people ridicule his antiquated insults and lack of technology savvy.
Also on Twitter is a poor U.S. user also called Peter Dutton. After copping a lot of flack, he straightened things out, calling the MP sharing his name "Trump-like".