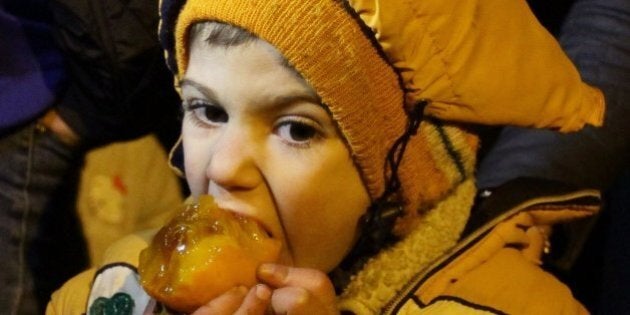 Aid agencies working in Syria are relieved the first allotment of humanitarian convoy of food aid has been able to get through to starving residents in Madaya, amid warnings relief will only be temporary as the six month siege continues.
The starvation deaths of a nine year old boy and four men on Sunday brought the death toll from malnutrition in Madaya to 28, months after the township and surrounding villages came under siege by regime supporters and its allies.
The 42,000 residents of Madaya watched as a 49-truck humanitarian convoy laden with health and food supplies unloaded in dark, wet and cold conditions on Monday night. It is unknown if the food has been distributed.
The delivery came almost a week after the Syrian government agreed to allow assistance through, and it is expected to arrive on Monday after Sunday's planned delivery was delayed.
At the same time trucks left Damascus for Kafraya and Foah, two towns under siege by opposition forces near the Turkish border in northwest Syria.
There 20,000 people are also in desperate need and, like those in Madaya, they have been cut off from humanitarian and commercial access since October.
It is understood the arrival of aid was delayed until both sets of trucks were ready to enter.
"We don't know if it's been distributed, but it's in Madaya," World Vision Australia Syria Response portfolio advisor Erin Joyce said.
"It's great that this access has been granted and that despite the delays at the various checkpoints the aid has been able to get in. But it's really important that this isn't just a one off situation and that regular access is granted.
"What we saw overnight in Madaya is the result of (international political) pressure, it's proven that it can work. We need to keep applying it and not think the problem has been solved now that the aid has got it in this one instance."
A first tranche of aid is aimed at addressing the immediate needs of Madaya residents, while a second tranche is expected in the coming weeks.
"It's heartbreaking to see so many hungry people," UNHCR representative in Syria Sajjad Malik told CNN.
"It's cold and raining but there is excitement because we are here with some food and blankets."
Aid groups said the one month's worth of food and three months of medical supplies would not outlast the conflict, now well into its fourth year.
Humanitarian assistance in Syria is an across-the-board problem, with an estimated 13.5 million in need of humanitarian assistance. World Vision said some 8.7 million couldn't meet basic food needs.
The UN estimated that some 400,000 people were surviving without access to life-saving aid in 15 besieged locations across Syria. In the past year, just 10 percent of all requests to access these areas were approved and delivered.
"The big question is what happens when this aid wears off," World Vision Syria Response advocacy director Frances Charles said.
"We actually don't know."
Charles is currently in Jordan where she is assisting with relief. She said Madaya struck a public chord because of the harrowing imagery emerging -- confronting evidence of what is happening not just in Madaya but in other besieged communities.
"In the last four years there have been more and more of (these sieges) and they get worse. The UN has been reporting on them, we've been reporting on them, but it's only now it has come to the attention of the public in such a visceral way," Charles said.
She said just allowing humanitarian access was not enough, and it had to be sustained. People also needed to be allowed to leave.
"It's not just about getting food to the starving, but also about getting water, sanitation, electricity to make sure the generators can work for the hospitals, medical supplies, warm clothes for winter, fuel," Charles said.
"If we're too accepting of this one off then we are setting a precedent, like saying 'ok, that was nice of you to let one in'.'"
One of the main barriers for agencies such as World Vision is the conflict and its multiple parties.
"The fluidity of the conflict means the lines are constantly changing. The people we have to negotiate with to get access are constantly changing," Joyce said.
Prior to Monday night's delivery, the last food distribution was on October 18, and since then the siege has tightened into a stranglehold since August, with 23 patients dying of starvation at Médecins Sans Frontières (MSF) health centres since December 1.
So desperate is the situation, on December 7 there were riots to try and seize the last food available at an MSF-supported distribution point.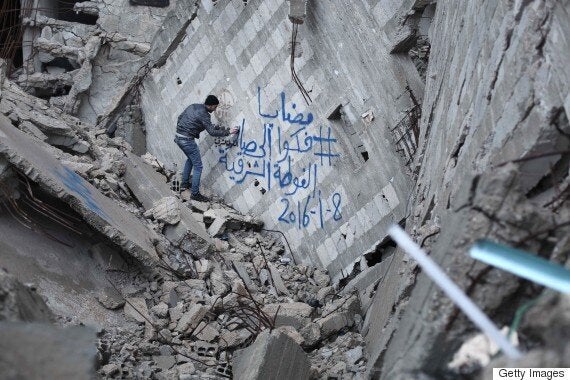 A Syrian activist sprays graffiti in solidarity with the besieged town of Madaya (Getty)
"Now I mainly have water with leaves. Winter is here and the trees no longer have leaves, so I am not sure how we will survive."
While there is some food available, the cost of goods inside the blockaded town has skyrocketed.
A litre of milk costs 283 times more in Madaya than in the nearby capital city of Damascus, CNN reported.
A Madaya resident called Mohammad, who described himself as a skeleton, told Amnesty his wife and three children ate every two days.
"In Madaya, you see walking skeletons. The children are always crying. We have many people with chronic diseases," he said.
Supporters of the Syrian regime have hijacked the social media hashtag #متضامن_مع_حصار_مضايا, or "solidarity with the siege of Madaya", to taunt residents with pictures of food.
MSF said its medics, who had eaten nothing for a week, identified 250 people with severe acute malnutrition, including 10 patients who were in immediate need of life-saving hospitalisation care before the aid arrived.
They were also battling below-freezing temperatures, with people trying to collect firewood at risk of landmines and gunfire.
"Madaya is now effectively an open-air prison for an estimated 20,000 people, including infants, children, and elderly," MSF Director of Operations Brice de le Vingne said in a statement.
"The medics we support report injuries and deaths by bullets and landmines among people that tried to leave Madaya."
Information about donating to World Vision's Syrian Appeal can be found at worldvision.com.au/SyriaCrisisAppeal or call 13 32 40