Magda Szubanski candidly discussed using blackface in a comedy skit 25 years ago and the process she's gone through to educate herself and others on the issue since.
On Tuesday, the actor spoke at Sydney's CityTalks - an event series that engages federal and local thought leaders on significant issues - about her own issues with anxiety.
This edition of CityTalks was centered around supporting mental health and wellbeing, especially for Indigenous Australians.
Szubanski said even though she has a diverse background and is from the LGBTQI community, she acknowledges she has made mistakes in the past that could have hurt Indigenous people.
"I'm not going to pretend to be an expert on diversity; I am someone who is very much learning," she said during a panel mediated by former Prime Minister Julia Gillard.
"Recently, I have been challenged by alt-right trolls who brought up pictures of me doing blackface 25 years ago. Although they're alt-right trolls, that doesn't mean they're wrong.
"It doesn't mean I don't agree with their comments. I've had to go through a process, as someone who talks about diversity, and I'm also part of that problem. What do we do with people like me?"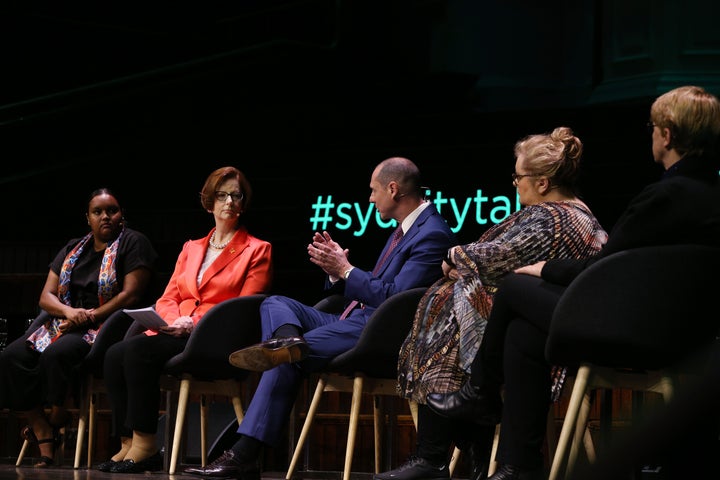 In May 2019, Twitter users (including One Nation MP Mark Latham) tweeted a picture of Szubanski in blackface taken from a sketch during her early comedy days. The image is a screenshot from either Full Frontal or Fast Forward which aired on the Seven Network in the 90s.
At the time, the actor said she had evolved as a person since filming that segment and understands it was the wrong thing to do.
"We didn't know, and that doesn't mean you're off the hook," Szubanski told HuffPost Australia after the panel.
"You can't just stop doing it because it's 'politically incorrect' to do it. You have to walk in the other person's shoes and imagine how they'd feel."
"It's making that empathy leap. We're all on a learning journey."
Blackface dates back hundreds of years and was most popular in the US at the turn of the 20th century, especially in cities in the Northern and Midwestern regions where there was limited interaction with people of colour, according to the Smithsonian National Museum of African American History and Culture.
The practise was used to mock, objectify and ridicule African American people as well as reduce them to stereotypes, such as being lazy or irresponsible.
During Tuesday's panel, Szubanski asked co-panelist Jennah Dungay, the youth ambassador for AbSec (Aboriginal Child, Family and Community Care State Secretariat), how people who've made similar mistakes can use those instances as teachable moments.
"It comes down to a level of understanding," Dungay explained.
"We are human, people do make mistakes. It's actually what you learn in that moment [that] is more powerful. You've got to share that experience with other people like we are tonight, and I think that's what changes people's attitudes when it comes to moving forward."
Szubanski is not the first comedian to shine a light on how blackface in comedy has affected minority groups.
In 2017, Little Britain's Matt Lucus told The Big Issue he regrets the "mean" approach to diverse groups on the BBC show.
"I wouldn't make those jokes about transvestites. I wouldn't play black characters.
"Society has moved on a lot since then, and my own views have evolved."
He added: "As I've got older, I've become more empathetic, I care more about hurting people."
If you or someone you know needs help:
Popular in the Community