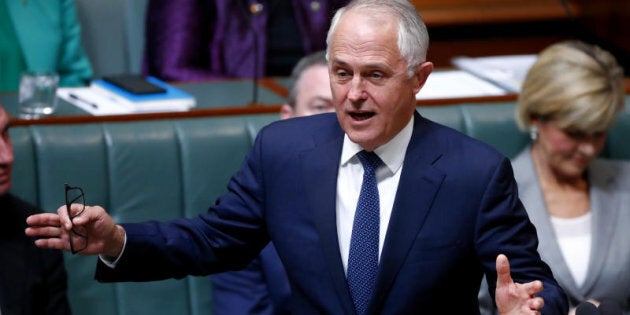 CANBERRA -- Prime Minister Malcolm Turnbull has advised hugs and for marriage equality advocates not to be distracted by the vile anti-gay posters which have popped up during campaigning for the same-sex marriage postal vote.
During a testy exchange on Sydney radio 2Day FM on Tuesday, Turnbull described the "STOP THE FAGS" posters -- which have been disowned by the Australian Christian Lobby -- as "hurtful" and said he "deplores" disrespectful speech, but also stated that Australia is a democracy which allows free speech.
The offensive posters, seen around Melbourne and spread over social media, features false statistics and a young child cowering before two rainbow-coloured belts, seemingly about to be punished. Turnbull has been promising Australia a "respectful debate" and was asked by hosts Em Rusciano and Harley Breen to denounce the posters.
"I deplore disrespectful abusive language whether it is directed at young gay people, or people of other religions or other races," Turnbull said.
"Mutual respect and a respectful debate is what we should have in Australia."
But Turnbull was told by Rusciano that, "Your respectful debate, with all due respect, is in the toilet".
After a surprised pause, the PM reminded the hosts that Australia is a democracy. "People will often say, in any democratic debate, they will often say things that are hurtful and unfair and sometimes cruel. That is part of a debate.
"The only way to stop people from saying things that you find hurtful is to shut down free speech."
Did Turnbull find the posters hurtful? "Well yes I do," he responded.
"If you have friends who are really distressed by this sort of language, stand up for them, put your arms around them.
"This is a time to put your arms around them and give them your love and support."
The Prime Minister -- who again stated he and wife Lucy would vote "yes" -- was then forced to defend the entire postal vote exercise with host Rusciano questioning whether a non-binding vote was "democracy".
"Of course it is. It is democracy," Turnbull said. "If the postal vote is carried, the legalisation of same-sex marriage will sail through the parliament, believe me.
"I encourage everyone to participate. And if you don't agree with it, participate. This is an exercise in democracy."
The pressure did not stop there with Rusciano questioning whether Turnbull believed that the vile posters were part of a legitimate debate.
A frustrated Turnbull again defended free speech.
"What you are saying there is undermining the case for marriage equality. A key thing is you cannot ask for respect from the 'no' case, if you are not prepared to give respect to the 'no' case."
And the final word on vile things?
"Don't be distracted by a handful of extreme and unpleasant posters or flyers," the Prime Minister advised.
"Focus on the substance of the debate and if you give the people who are saying vote no, if you give them respect for their conservative view of marriage, then they will give respect to your view. The key to this is respect."
Popular in the Community