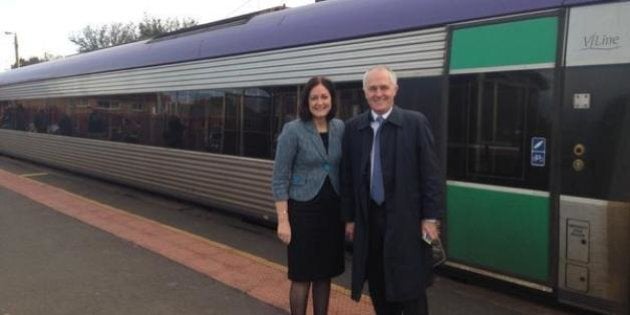 Malcolm Turnbull loves public transport. Whether it's a train or a bus, a tram or a ferry, no matter if he's using a Myki card in Melbourne or an Opal card in Sydney or a Metrocard in Adelaide, he loves it all. In fact, the only thing he loves more than using public transport is tweeting about using public transport.
Turnbull has tweeted or retweeted over 500 times in 2015. In those Tweets, he mentions trains at least 29 times; buses six times; trams eight times; "public transport" six times; ferries three times; light rail three times; and Opal and Myki three times each. In fact he's tweeted at least 62 mentions of public transport this year, making up around 12 percent of all his Tweets in 2015. For a guy with a personal wealth estimated in the tens of millions, it's admirable to see him slogging it out on the train with the rest of us.
So, what lessons can we learn from Turnbull's indefatigable public transport updates?
The time he told you his second favourite bus
On Saturday, Turnbull was off to the re-opening of Barangaroo Park. No chauffeur-driven limo or ComCar for Malcolm - no sir!
The 333 is a lovely route, running from Circular Quay out to North Bondi via Surry Hills and past Centennial Park.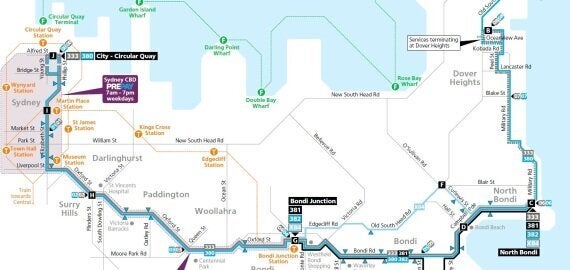 Malcolm's second favourite route, the 333 (Supplied/Sydney Buses)
Malcolm approves of this route. He hopes you do too. But it's not nearly as good as....
When he told you his favourite bus
Ah yes, the 389. Another fine bus timetable. Quite similar to the old 333, but the 389's more winding and whimsical route sees it take top honours in Turnbull's book.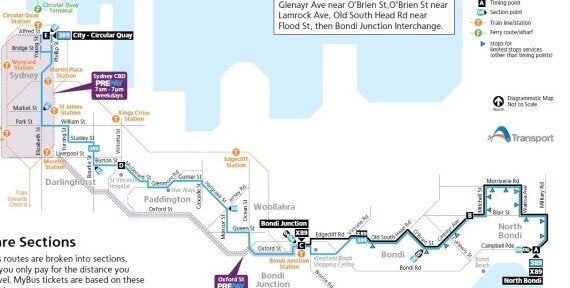 Malcolm's favourite route, the 389 (Supplied/Sydney Buses)
When he told you his most Instagram-worthy train line
As an Illawarra boy, born and raised, this reporter can confirm the line to Wollongong is indeed beautiful. No doubt this is where Turnbull takes his Instagram photos, hashtagging #nofilter as the last of the afternoon sunlight creates a gorgeous vista across the ocean.
When he gave you handy tips to beat traffic
Not merely satisfied with giving you tips for the beautiful, Turnbull also wants to help out with the practical. Using the train to beat traffic -- of course!
When he used self-deprecating humour even though you know he's a fit silver fox with a body a man half his age would be proud of
The headline says it all, really.
When he #engaged with the #youth
Here he is, having a chat with a young man on a topic that young men are interested in. No doubt Malcolm jumps on trains and sparks up conversations with total strangers, then when they both get off at the next stop, they are the best of friends and go for a quick beer together at the pub.
When he gave you a really fun and useful fact that might help you in your next pub trivia game
When the quizmaster asks the teams "what is the largest tram network in the world?" you can write your answer on the answer sheet with complete confidence, thanks to Uncle Malcolm.
When he threw caution to the wind and really loosened the purse strings on a peak hour fare
When he gave you a peek back in time
Turnbull takes Twitter followers on a trip back in time, showing us a vintage photo of a tram cruising through his eastern suburbs locale. It's a surprisingly crisp and colourful photo, making us wonder whether he has a Back To The Future-style time-travelling Delorean.
When he made an unnecessary Game of Thrones reference
In the Game of Trains, you arrive on time or you die.
When he used the age-old "sorry, I have to catch an early train" excuse to skip out early
When he told you the exact cost of his fare to the goddamn cent
Again, kudos on a multi-millionaire being in touch enough with the public to actually know what his daily expenses are.
When he had the stopwatch on the train
Don't even THINK about an unplanned delay. Not on Malcolm's watch!
When he ditched wheels for waves and jumped on a ferry, just to keep things interesting
Keeping things loose and light, Turnbull jumped on the Sydney Harbour ferry. Maybe the T1 line across the bridge had trackwork that day?
And of course, when he destroyed Ben Fordham's mind by proving he was on a train on the NSW Central Coast
It's impossible to mention "Malcolm Turnbull" and "public transport" in the same sentence without this all-time classic exchange. Back in February, when speculation was rife that the Liberal Party was looking to mutiny against Tony Abbott, 2GB radio host Ben Fordham Tweeted that Turnbull had a secret meeting with Julie Bishop -- ostensibly, around whether a challenge would be made against Abbott. Turnbull denied, but that didn't stop Fordham.
Fordham stuck to his guns, continuing to claim his information was correct. Turnbull stuck to his guns, continuing to show he was in fact on a train heading to the NSW Central Coast.
Fordham finally relented (and deleted all the incorrect Tweets).
Malcolm Turnbull is hoping to be one of our most relatable politicians, and hanging with the constituents on public transport is a strategy that seems to be working well.
Don't ever change (unless it's to a superior, more efficient mode of transport).