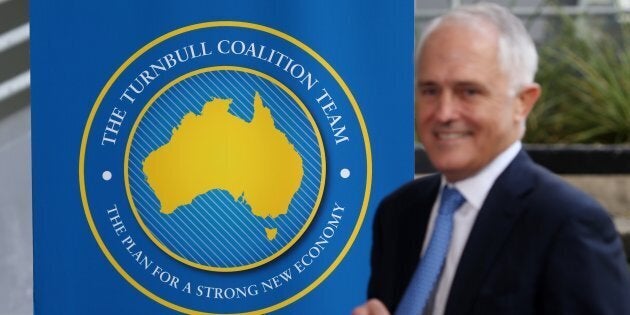 Out on the campaign trail, Malcolm Turnbull has some shiny new banners. They're lovely; a deep, rich blue, with golden details to represent Australia as literally a golden land.
He has hosted seemingly every press conference of the two-day-old campaign in front of one of the large lovely banners, featuring his new logo: "The Turnbull Coalition Team: The Plan For A Strong New Economy," with a gold rendition of Australia at the centre of the circular logo.
But they're missing one important word. One pivotal detail. Can you work out what?
"Liberal" seems to be the hardest word for these banners. Liberal, as in "the Liberal Party." The party of which Malcolm Turnbull is leader.
Yes, technically the "Coalition Team" may be the more correct term, with Turnbull campaigning to lead the country as part of the coalition between the Liberal and National parties; but he has favoured the Coalition name so far.
There does appear to be a version of the logo which does feature the word "Liberal" instead of "Coalition," but the banners Turnbull has been using thus far haven't been the Liberal version. Here is the slightly altered version, featured as the header on the Liberal Party's Twitter page: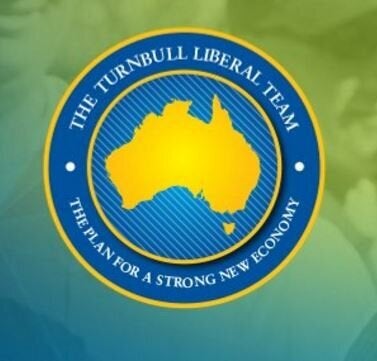 BUT! Here is the Coalition logo, featured on the Liberal Party's Facebook page:
Reporters out on the campaign trail with the PM, and other political types, are noticing:
As for us? Turnbull's new logo reminded us of something else:
But we should point out that this is not exactly a Turnbull-exclusive branding move, with at least one ad from Tony Abbott's 2013 campaign choosing "Coalition" over "Liberal."

Bill Shorten is proudly displaying the name of his party though, plastering it in huge font on the side of a bus.