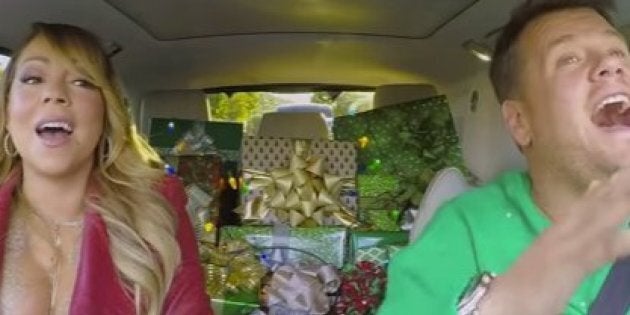 It's the perfect Carpool Karaoke to end 2016.
The twosome drive around Los Angeles in an SUV filled with presents in the backseat and a Christmas tree tied to the roof while singing Carey's classic 1994 song. For the occasion, the "Mariah's World" star dons a low-cut red leather jacket while Corden sports an ugly Christmas sweater.
But the best part of the segment (aside from Carey's utterly over it expression) is that it includes cameos from past Carpool Karaoke guests singing along to the Christmas tune including Lady Gaga, Adele, Elton John, Chris Martin, Selena Gomez, Demi Lovato, Nick Jonas and even the Red Hot Chili Peppers.
It's fitting that the (maybe?) last carpool karaoke of the year ends with Carey, who was in fact the first celebrity to appear on the segment with Corden for "The Late Late Show." That clip has more than 28 million views on YouTube so far!