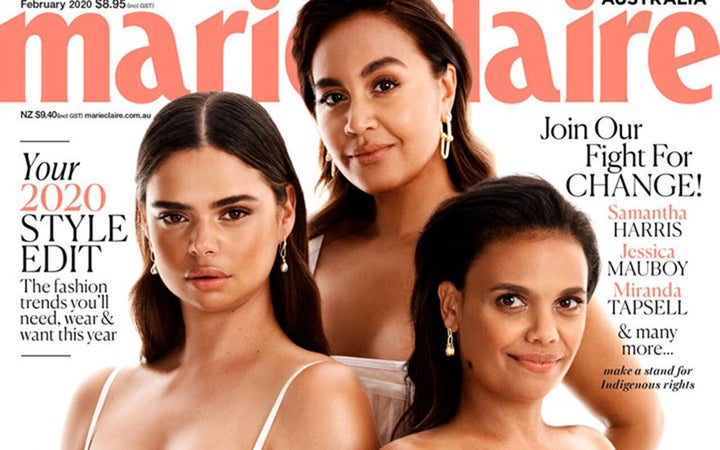 Marie Claire magazine has joined forces with Australia's biggest and brightest names with its special February issue to call for Indigenous recognition in the constitution.
Miranda Tapsell, Samantha Harris and Jessica Mauboy front the "It's Time" cover which demands the acknowledgement of Indigenous people in the Australian constitution, the same reform that's called for in the Uluru Statement from the Heart.
"Real change doesn't happen unless everyone pushes for it," Tapsell told the publication. "Australians have the power to fix this (by voting in a referendum), and they have to make it a priority."
The Uluru Statement from the Heart calls for Aboriginal and Torres Strait Islander people to be officially recognised in the Australian constitution, perhaps in the form of an elected group of First Nations people that would advise parliament on laws affecting Indigenous people.
In order for the Australian constitution to change, the country would have to vote in a referendum, a movement which is a no brainer for academic Dr Susan Carland.
"We've seen it happen with same-sex marriage and the plastic bag ban," she told Marie Claire.
"We're stagnating on this issue of proper treatment and respect of Indigenous Australians and proper acknowledgement of Indigenous history. We need a public push for change."
Australia is the only major Commonwealth country that does not acknowledge, or have a treaty with its First Nations people.
Marie Claire editor Nicky Briger said it is not an Indigenous issue but an "Australian issue."
"The gap between Indigenous and non-Indigenous Australians remains our greatest shame," she said.
The fact there is no official First Nations voice in parliament could offer an explanation to the government's failure to close the gap around health and social disadvantage of Indigenous people.
Data could offer proof of why not having an official First Nations voice enshrined in the constitution is hurting Indigenous Australians. For instance, Aboriginal and Torres Strait Islander children are 10 times more likely to be living in out-of-home care than non-Indigenous children. Marie Claire reports an 18-year-old Indigenous man is more likely to go to jail than to university and "at one point in 2018, every child in detention in the Northern Territory was Aboriginal."
"My greatest hope is that we are finally seen as the first people of this country, that our languages are taught and our countries are acknowledged," actor Meyne Wyatt said.
"That our rates of incarceration are lowered and life expectancy rises, that you see our faces on screens and our voices and stories are told on TV, social media and in schools."
Co-founder of Tiddas 4 Tiddas Kelly Silva added "you can't solve blackfella problems with whitefella solutions."
"We need to be in charge of our communities and be the ones making decisions for us because we know what's best. It's common sense."
Tapsell and many other Indigenous and non-Indigenous Australians use the 17-page campaign to urge Aussies to think meaningfully about the Statement as "a real roadmap for Indigenous constitutional rights."
"As a result of a very short-sighted view of history, most non-Aboriginal citizens forget that the structures on which the colonial parliament was built were never designed to see us. It erased the nation's first people," she said.
"Real change doesn't happen unless everyone pushes for it. As Dean Parkin, Uluru Statement signatory, says, 'The voice to parliament is our chance to speak our piece. What we ask today is that you listen and that you take up the call, arm in arm with us.'"
Marie Claire's February issue is on sale now. You can lend your support at ulurustatement.org and use the hashtag #itstime.