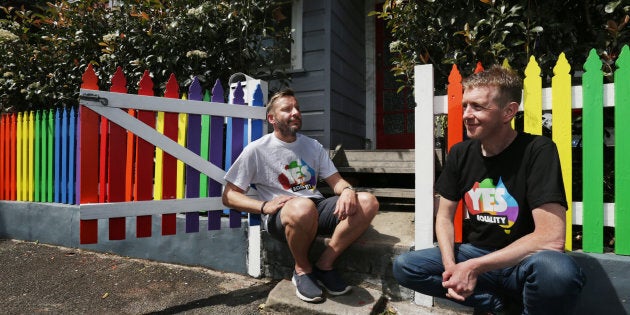 SYDNEY == The head of Australia's marriage equality push has slammed calls for anti-discrimination exemptions to be legalised under the guise of 'religious freedoms' in the event of a yes vote in the postal survey, claiming such moves would be against the spirit of the support for the reform.
Liberal senator James Paterson has revealed the details of a marriage equality bill he has been working on, with the support of conservative politicians who opposed the reform, which would allow gay couples to marry while also inserting broad exemptions to anti-discrimination law to allow businesses to refuse service to same sex weddings.
Paterson's bill, which has been roundly criticised by marriage equality supporters, would allow churches and celebrants to refuse to solemnise a same sex wedding, establish a limited right of conscientious objection so no-one is forced to participate in a same-sex wedding against their sincerely held beliefs, and would allow parents to take their children out of classes that conflict with their values.
The bill also enshrines protections for people who hold views that marriage is only between a man and a woman, that sex should only be between married men and women, and that gender is only binary.
Tiernan Brady, the director of Australian Marriage Equality, told HuffPost Australia last week the religious freedoms argument ran counter-intuitive to the idea of having a vote for marriage equality.
"The people are being asked if we should treat LGBTI people equally. If the answer is yes, then anyone who wants to turn around and say 'we should pass a law that discriminates against LGBTI people' is doing the opposite of what the people have just said," he said.
"That would be profoundly disrespectful and a rebuke to the people of Australia. A yes vote cannot and should not and must not become a moment where others try to unravel existing anti-discrimination law."
Brady, an Irish citizen, said he saw echoes of the historical discrimination against his own people in the religious freedoms push.
"Anti-discrimination law has served Australia and LGBTI people well. We don't want this to be a country with signs like the old 'no Irish need apply'," he said.
"It was part of the journey in Ireland [during the referendum on marriage equality], the issue of freedom to discriminate against people, but that debate lasted a couple of hours because Irish people remember what those signs look like. We know that's the real slippery slope, when you unravel anti-discrimination protections, and I don't think Australian people want that.
"This moment can't be the moment we literally do the opposite of what the people are saying."
Paterson's bill has been slammed by human rights and law bodies. Law Council of Australia president Fiona McLeod said his proposal "goes well beyond the issue of marriage in a number of crucial respects".
"Australia's anti-discrimination laws were amended in 2013 to enact important protections for LGBTI people in recognition of the unacceptable levels of discrimination. This Bill will encroach on many of these protections in an extraordinary and perilous way," she said in a statement.
"You could potentially see a situation where a hire car company could leave their customers stranded on the way to a marriage ceremony simply because the driver held a thought or belief against it. This is even if the belief had nothing to do with religion."
The Human Rights Law Centre said Paterson's bill was "a Trojan horse to allow unprecedented discrimination".
"If there is a Yes result on Wednesday, Australians will have voted for true equality for all Australians – not an unfettered right to discriminate for people who voted No," said HRLC director of legal advocacy, Anna Brown.
"Australians are voting to make our country a fairer and more equal place, not to take us back to a time where people can be denied service at a shop."
Tasmanian marriage equality advocate Rodney Croome claimed the bill "would effectively allow businesses to hang a 'no gays' sign in the window ".