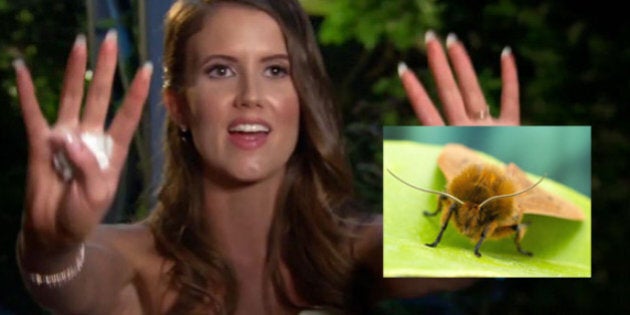 Public break-up fights are hard to watch at the best of times, though Clare and Jono took it to a whole new level when they went public on their angry, sexless partnership on Married At First Sight.
This week the four couples met each other for the first time. Three weeks into their marriages, it was the perfect time to compare themselves to the other couples but, because Clare and Jono broke up about an hour before the event, the other six felt pretty good about themselves.
That is until Clare started telling the group she was a sexual being and didn't appreciate Jono's lack of enthusiasm.
Jono cuts back with the point-blank statement "I don't know how to say it any other way, I don't want to".
In a reality TV series built on emotional trainwrecks, their fight in front of the other couples is especially gut-wrenching. Or, as fellow contestant Erin says: "I almost s*** myself".
Oh Erin. Can't we just watch her potty mouth antics with the adorkable Bryce forever?
Do we really have to be trawled through the torture of Jono and Clare's nasty break up then flick to Simone and Xavier's dead-boring, multi-screening relationship? Next time you want to show Christie breaking down on Mark's remote farm, just don't.
Just let us watch Bryce giving Erin birthday cupcakes on a continuous loop forever.
Nothing can break the fledgling love they're forming. Except maybe an outbreak of moths in Bryce's apartment. Erin is phobic of moths, because of their "f****** beating, f****** powdery ass wings".
"You can't tell what way they're going, who the f*** knows with moths."
Bryce isn't so sympathetic, offering: "If there was a moth, I'd have it in my hands and I'd chase you because I haven't seen you with a moth so I'd want to see your reaction".
It looks like this, Bryce.
Bryce's moth brush-off is not the cliffhanger threatening to end their relationship though.
The issue for our lovebirds is the question of children -- Bryce is ready, Erin isn't. It's controversial.
I think everyone's forgetting Erin's birthday cupcake was to celebrate her turning 26.
At that age, having dated a guy for three weeks, would you be ready to commit to making babies? After having front-row tickets to the Clare and Jono show, it's a triumph she even wants to talk to boys at all.
Erin sums it up best when she says: "Essentially I've never lived out of home before, like I'm 26 years old. I can't even care for myself let alone a baby".
Someone give that girl a f****** cupcake.