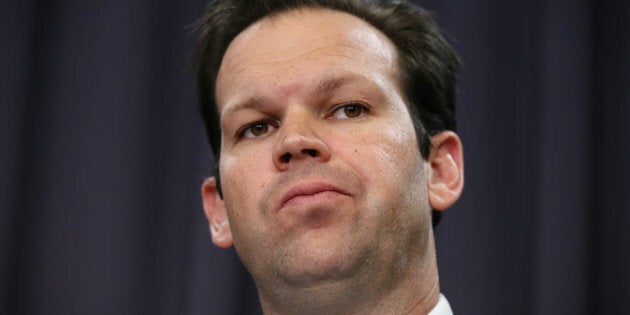 Liberal-National senator Matt Canavan maintains "I have not breached section 44" of the Constitution, after stepping down from his ministerial role earlier this week over an undiscovered Italian citizenship.
Canavan, from Queensland, revealed on Tuesday that he had recently learned he had been registered as an Italian citizen. He claimed his mother registered the family in 2006, when the senator was 25, without his knowledge or consent.
Attorney-General George Brandis said the case would be referred to the High Court to investigate whether this situation, where Canavan claims he was unaware of his citizenship and did not take any steps himself to gain that citizenship, would see him fall foul of section 44 of the constitution which prevents dual citizens from serving in parliament.
On Thursday, Canavan said he was confident of clearing up the matter in court and defended himself over questions about why he didn't realise he held Italian citizenship, but refused to release the paperwork which led to his citizenship.
"I've never signed a document, given consent or had any knowledge of these matters until the last week and now with those matters in terms of documents will be revealed through the court process," he told a hastily-arranged press conference in Rockhampton.
"I had no suspicion of any of these matters. I was working on the presumption you would have to fill out forms, give consent and sign papers to become a citizen of another country and I've never received correspondence from Italian authorities regarding this. I had no, in my view, suspicion I was a citizen."
The Senator said his legal team had advised him that "I have not breached section 44" of the constitution, which forbids people holding dual citzenships from sitting in parliament. However, he resisted calls for his citizenship documents to be released in order to examine exactly what actions -- if any -- he took in relation to the citizenship process.
Questions have been raised around his story that his mother unwittingly signed him up as an Italian citizen, with experts and consular officials being quoted as saying that this scenario would be highly irregular. ABC journalist Emma Alberici said on Wednesday that an Italian consulate employee told her that it is impossible for a parent to gain citizenship on behalf of an adult child without that person being actively involved in the process.
"It's for the court to look at and it's not appropriate to run those conversations through the media. They'll be revealed and there's a time and place for that when it goes before the court," Canavan said on Thursday.
"I have not received any correspondence from Italian authorities - ballot papers, other correspondence or anything until the past week."
Minutes after the press conference, Greens leader Richard Di Natale -- who himself lost deputies Scott Ludlam and Larissa Waters to citizenship issues in the past fortnight -- called on Canavan to resign.
Canavan's case is expected to be referred formally to the High Court when parliament resumes on August 8.