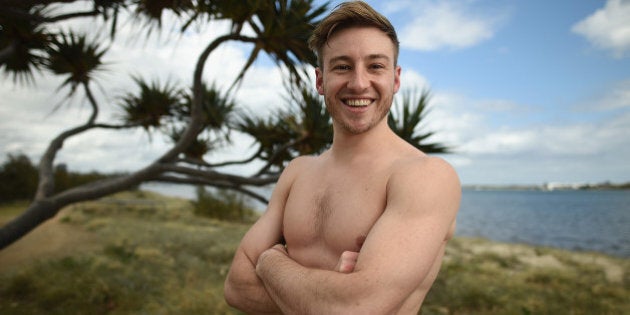 Olympic gold medal-winning diver Matthew Mitcham hung up his Speedos today, or at least he hung up whatever a diver hangs up. Anyway he retired.
He announced it first on Channel Seven's Sunrise, then confirmed it via a typically chirpy Instagram post.
Mitcham is a great guy whose back story is almost as good as the story of the day that brought him fame, acclaim and a gold medal in Beijing. A junior trampolinist-turned diver, he gave up the sport as a teenager and turned to circus diving to make a living. That's where you dive into really small, shallow pools to thrill the crowd.
The decision to return to larger, deeper pools in 2007 reaped quick rewards. Mitcham won national titles, but was still very much unfancied against the Chinese at their home Olympics in 2008.
The 10m platform was the final event of a diving competition in which the hosts had won every gold medal on offer. Mitcham dived exceptionally well, but was still, he thought, going for bronze as he approached the edge of the platform for the last of his six dives.
He nailed it. Dragonflies alighting on the surface of your backyard pool have made bigger splashes. And then, remarkably, the last remaining Chinese diver fluffed his effort and tumbled from first to fourth. Mitcham's 112.1 point final dive overcame a 32.5 point gap. Matthew Mitcham had won.
"When I realised that I had an an Olympic gold medal, it was the best thing ever," he said in the video below, which we absolutely insist you watch.
"I got behind the dais and I had this really poignant thought that everything that I'd been through had been worth it, the years of training, all of the injuries, the missing out on every social event, living off baked beans and noodles because I had no money because I was so poor. All of that stuff, it had just been worth it."
As his star rose after Beijing, Mitcham became Autralia's highest-profile out-and-proud gay athlete. This reporter profiled him around that time. We went to Balmain in Sydney, where he was living, where there are sandstone cliffs jutting out over the harbour. We thought it would make an amazing pic to have him standing on one of those cliffs. Because he's a top bloke, he agreed. Stuff the lack of insurance. Let's make a great picture!
But not everything was rosy for Mitcham in this new, much more public phase of his life. His book, Twists and Turns, detailed his battle with drugs, depression and more. He later turned the book into a cabaret show of the same name.
Mitcham plays a mean ukulele and has a great sense of humour and his own frailty. It's not often you meet a person of exceptional athletic ability combined with such high emotional intelligence. But Mitcham has spoken often of how sport and artistic pursuits balance him.
"Sport gives me different things than what the arts give me which is why they complement each other so well. It's what differentiates the two that helps me get what I need out of them. They validate me in different ways," he said last year.
Around the time he said that, Mitcham was seriously training for Rio. But now he's not. It's unclear whether he just woke up one morning and decided he's had enough, or whether he's got a better offer in media or the arts.
What is clear is that Matthew Mitcham has contributed much to the fabric of Australian culture and Australian sport. Happy (sporting) retirement, mate.