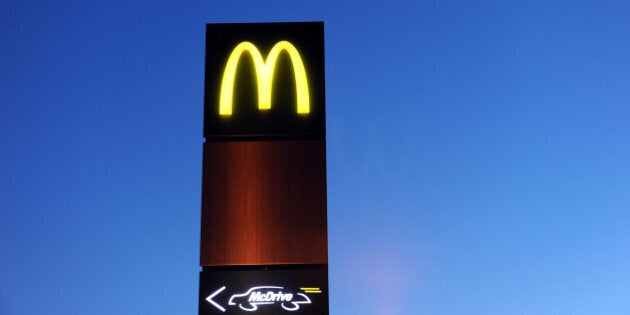 McDonald's has been named the 'worst of the decade' for its marketing of junk food that targets children.
Online food and activity advocacy group 'Parents' Voice' held their annual 'Fame and Shame Awards' in Melbourne on Tuesday, handing over the top award to the fast food giant.
McDonald's has sat alongside breakfast cereal manufacturer Kelloggs in the category every year since the awards began.
Campaigns Manager for Parents' Voice Alice Pryor expressed frustration that the company continues to develop advertising campaigns targeting children.
"It's very disappointing that so little progress has been made in the last decade," she said in a statement.
This year, the title was crowned after McDonald's took home the 'Pester Power' Award for its Minions Happy Meal television advertisements that feature the famous animated characters playing with McDonald's 'Happy the Box' character.
The 'Digital Ninja' Award was also awarded for its 'Happy Readers' campaign that offers children a selection of free books and digital readers with the purchase of a Happy Meal. To collect each of the 10 books and sixteen digital readers on offer, twenty-three meals must be consumed in an 8-week period.
McDonald's has responded to the award and says the company -- as a signatory of the 'Quick Service Restaurants Initiative' -- remains vigilant in its responsibility as an advertiser.
"For more than 10 years, McDonald's has been committed to providing choices for adults and children," a spokesperson told The Huffington Post Australia.
"We only promote healthier options when advertising Happy Meals, which include choices like apple slices, grilled chicken wraps and low fat milk or water. One in every three Happy Meals we now sell includes a healthy option."
In response to the singled-out campaigns: "Minions promotion included giving away more than half a million free bananas with Happy Meals, and Happy Readers provided kids with a book rather than a toy as part of their meal. We don't see any problem with promoting reading and the consumption of fresh fruit and neither did the relevant advertising regulators."
The online parent network expressed concerns that the lack of regulation monitoring digital advertising has strengthened the cause of Mcdonald's and other fast food companies.
"Protecting children from being bombarded by junk food marketing is no longer achieved by simply turning off the TV!" said Pryor.
"Parents need to be constantly vigilant about a digital world that surrounds kids, is mobile and is the perfect tool for promoting junk food products."
The 'Fame and Shame Awards' also commended companies and campaigns making positive strides in junk food advertising. The ABC's 'Gruen Transfer' and 'The Weekly' took home 'Media Spotlight' awards.