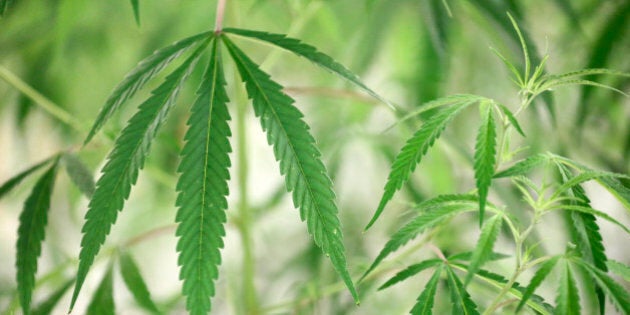 The legalisation of medicinal cannabis could draw an industry worth more than $100 million in one year and propel Australia forward as a global export leader, a new report by the University of Sydney has found.
The University of Sydney's Business School has released a white paper that reveals the prospect of an emerging multi-million dollar industry centering on medicinal cannabis production and distribution.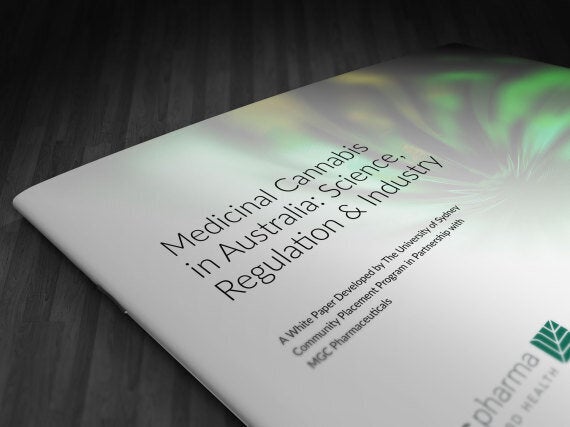 "There's a lot more to a new industry like medicinal cannabis. It's about more than medical benefits," study author and associate lecturer at the University of Sydney Michael Katz told The Huffington Post Australia.
"The idea that we may become an export nation of an industry that currently doesn't exist provides huge opportunities for forward thinking from our councils and state governments to position them at the forefront of this."
The report, produced in collaboration with -- but not funded by -- private company MGC Pharmaceuticals, compared Australia's market use to those of countries where medicinal cannabis is legal. It estimates that initial demand in Australia could be as high as 8,000 kilograms of the plant product.
Up to 51,000 square metres of greenhouse space -- almost three times the size of the Sydney Cricket Ground -- would be needed to produce this amount.
The industry in Australia could assist tens of thousands of patients suffering from medical conditions including epilepsy, cancer, multiple sclerosis and chronic pain. The report found that up to 25,000 Australians diagnosed with epilepsy each year could benefit from such treatment.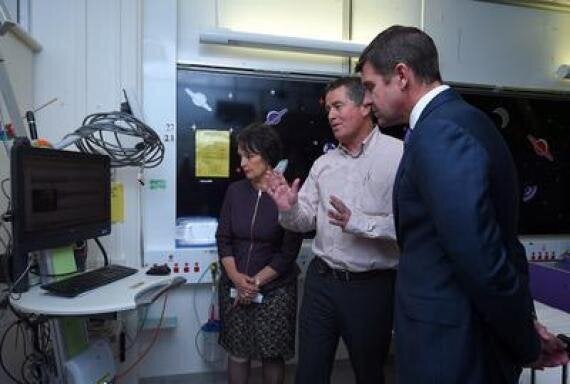 NSW Premier Mike Baird and Pru Goward are shown epilepsy patterns of a patient by a paediatric neurologist and chief investigator in the medical cannabis trials at Sydney Children's Hospital in Randwick.
"There are a vast range of applications to a large number of serious conditions that will be helped -- and will dually impact on people's lives -- by the legalisation of medicinal cannabis," Katz said.
"That's the demand that is currently in Australia -- and we believe that would increase as it becomes more known to the public."
The secondary effect of this would be a burgeoning industry and surge in jobs.
"That $100 million figure doesn't include the ancillary industries which facilitate and track the supply chain -- from the production of medicinal cannabis to consumption. And it doesn't include exports."
The study refers to estimates from Australian medicinal cannabis company AusCann that suggested a retail value of $75 million could be made in annual exports within three years of legalisation.
The paper is the first of its kind to take both a logistical and medicinal approach on the benefits of a local medical cannabis scheme in Australia.
For Katz, this comes down to recognition of a 'paddock to plate' approach that is set to attract both industry opportunity and risk.
"The federal government's legislation has a real focus on visibility across supply chains and that is obviously about safety and regulation around who grows the cannabis to ensure that it is used medicinally.
"I think that's where interesting opportunities lie for different people to come into this industry, for example emerging tech experts who could start building software to facilitate this. That's where it starts crossing over into the Turnbull government's innovation mandate."
The backhand of this push for legalisation is a spiraling market.
The report notes that the higher demand is already impacting on Australia's black market for the drug and leads to "increased incarceration rates and associated state expenses".
"The government has to make sure that licensing recognises the economic and operational risks," said Katz.
"It is working really hard on this issue but they don't have an existing industry to look at. That's where we are adding some value by incorporating a theoretical and practical framework which we hope will inform the government to get it right."
New South Wales Premier Mike Baird has recently announced the state's third medicinal cannabis trial that will see about 330 patients with chemotherapy-induced nausea and vomiting taking part.
The report comes as regulations supporting the recent change to legislation are being drafted and would need to be enacted by each state.