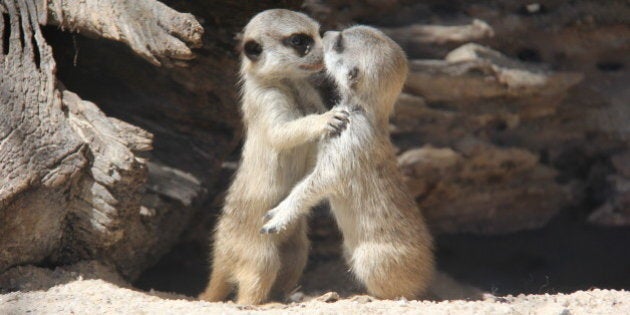 Get ready to say awwwwwwwwwwww because two meerkat pups born in January made their first public appearance on Wednesday morning at Werribee Open Range Zoo in Victoria.
The pups were born to mum Akili and at almost five weeks of age they're starting to spend more and more time outside of their burrow as they become more confident.
While it is still too early to determine the sex of the pups, they are already developing their own personality traits while being looked after by their mum and other adults in the mob, each taking turns as sentry to watch over them, according to keeper Suzanne Szabo.
"One's a lot more gung-ho, likes to come out and explore and the other is a lot shyer and keeps its distance," she told The Huffington Post Australia.
"They've adjusted really well, they've got older siblings who are looking over them and one female has really taken on the job of babysitter to give their mum time to eat and relax."
Good news, indeed. Now let's get to all of the adorable pictures without further delay..