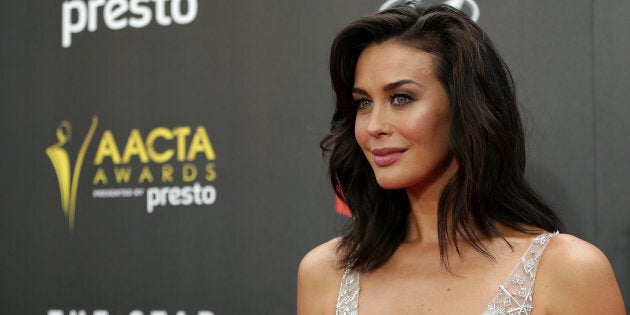 As far as Australian celebrities go, Megan Gale is one of our most successful. With a career that has spanned more than two decades, Perth born Gale first began modeling at the age of 18.
In the 20 years that have followed she's modeled for GQ, Maxim and Vogue, been the face of David Jones and L'Oreal Paris, acted in films such as Mad Max: Fury Road and has had a successful swimwear range, Isola. And that's just the highlight reel.
Most recently, Gale has been busy filming the 2016 series of Australia's Next Top Model, on which she is a judge.
All that, plus a young son, River, with partner Shaun Hampson, and you couldn't blame Gale for resting on her laurels for a little while. Instead, Gale has launched a range of chic unisex watches in collaboration with timepiece brand Uncle Jack, with part of the proceeds going to the Movember Foundation.
"I've worked on this with a company called Uncle Jack Watches, which is a Melbourne based company, of which I had been a fan for a while and I had a few of their watches," Megan Gale told The Huffington Post Australia.
The MG X UJ watch collection features three unisex timepieces, in silver, copper and black. The designs are very minimalistic and classic.

"Initially we were talking about doing a design collaboration and involving a charity I was passionate about. Movember and men's health was a good fit because I've always had a lot of men around me. I'm the only girl among my siblings -- I've got two older brothers -- and my partner Shaun has been involved with Movember for quite a few years -- he's been an ambassador for the past three years," Gale said.
"Shaun's dad passed away from prostate cancer in April 2014. Losing his dad, Tom, obviously had such a huge impact on his family and I felt it as well, being very close to the family. Then, four months later my dad passed away from lung cancer. My son River is now two and a half, though Shaun's dad missed out on meeting River as he passed away a month before River was born, and River was 14 weeks old when my dad passed away."
For obvious reasons these issues hit very close to home for Gale. She hopes the watch collaboration and Movember Foundation involvement will encourage more women to get involved with men's issues and wants men themselves to stop putting off going to the doctor.
"I want to encourage men to not push their health issues to the side. If they have any type of symptoms not to dismiss them -- not to worry about them and start panicking -- but to have it checked out. Shaun's dad put off his symptoms for a very long time -- a lot of men who are a little older have a fear of going to the doctors -- so we want to encourage an open dialog about men's health," Gale said.
"With both of our dads, we were all blindsided. You hear about it, but you really don't think it's going to happen, and then when it does there's a sense of 'what could I have done?'."
"I didn't really plan on sharing my story about my dad because it is really personal, and it's really hard to talk about. I stayed quite private about it out of respect for him. Battling cancer is an extremely private, intimate, horrible thing to go through and I didn't want that splashed everywhere."
"But recently I just had this intuitive 'now is the time to talk about it' moment, because by me talking about it, it might impact other people and perhaps spark a daughter, or a wife to encourage her husband or dad to go to the doctors.
Click below to follow HuffPost Australia on Snapchat!