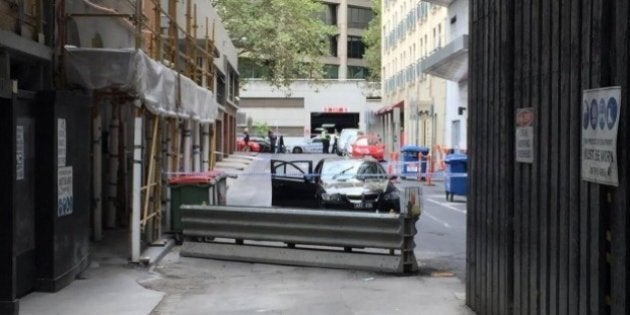 A bleeding man is on the run after abandoning his BMW following a wild car chase in Melbourne likened to video game Grand Theft Auto.
A black luxury car was dumped in a Melbourne CBD laneway with what appears to be a bullet hole in its windscreen, after witnesses claimed to have spotted it speeding through traffic on the wrong side of the highway with multiple police cars in pursuit earlier in the day.
A caller to radio station 3AW compared the scene on the Princes Highway at Flemington to Grand Theft Auto, the infamous game about stealing cars and hot police pursuits.
"The windshield is broken, it looks like there were gun shots through the windshield (and) the gentleman was bleeding quite profusely," Jordie, a witness, told 3AW..
Soon after, a car matching the same description was found abandoned in a Melbourne laneway, with the driver nowhere to be seen and the area cordoned off with police tape.
3AW journalist Pat Mitchell said witnesses had reported seeing cash fly from the car.
A police spokesperson told Fairfax Media that officers were pursuing the driver of the car after attempting to arrest him in North Melbourne.
Fairfax reports that there "appears to be a bullet hole in the driver's side windscreen", and that witnesses had reported seeing the driver with "blood pouring from his face".