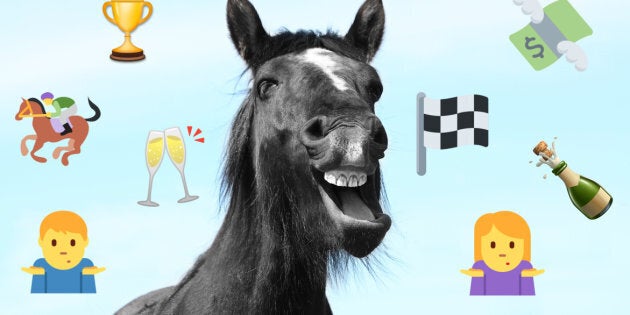 Melbourne Cup form guides are stupid. They're always written in a strange language that only diehards understand.
This one is different. This tells you everything you need to know if you're a once-a-year punter. Well, sort of.
And by the way, if you're wondering why Australia's best racehorse Winx isn't running, that's because she doesn't run over marathon distances. The Melbourne Cup is 3200m. Winx has won between 1100m and 2200m. She'll put her hooves up and leave this one to the stayers.
Jockey: Damian Lane. Trainer: James Cummings. Odds: $26
Hartnell ran third in the 2016 Melbourne Cup after starting favourite, then promptly retired. Problem is, his trainer James Cummings (grandson of the late Cup legend Bart) is stubbornly ignoring this fact. Hartnell has spent the entire year locked in a room watching reruns of old Bachelor series, yet Cummings is still running him in the Cup. Someone, please, set poor old Hartnell free in a paddock.
Jockey: Frankie Dettori. Trainer: Robert Hickmott. Odds: $7.50
You know who the last horse to win back-to-back Cups was? It was Makybe Diva, who won three Cups from 2003-05 and was a legend. Almandin is not that. This deluded quadruped thought he was a big celebrity after last year's win, then blew all his prizemoney playing poker at Warney's house. He also took up smoking "Whinny" Reds. Has as much chance of a repeat win as the Richmond Tigers.
Jockey: Blake Shinn. Trainer: Darren Weir. Odds: $8.50
Potentially the best horse in the race, but here's the problem. There is good Humidor and bad Humidor. Good Humidor is the horse who nearly beat Australia's greatest racehorse Winx last week. Bad Humidor is the one who whines like a lonely puppy when things don't go his way. Humidor is reportedly so upset after losing to Winx, he'll stay in the Melbourne Cup starting gates and sulk until December.
Jockey: Olivier Peslier. Trainer: Alain Couetil. Odds: $31
Never in the rich history of the Melbourne Cup has there been a story like this. Tiberian's dad was a "teaser pony". His job was to stimulate mares so that they are ready to mate with expensive stallions. But one day, the owner of Tiberian's dad took pity and said hey, have a mare. The result is Tiberian. And to everyone's shock, he's fast! Read the full story here.
Jockey: Hugh Bowman. Trainer: Hughie Morrison. Odds: $8.50
"A beautiful Melbourne Cup trial," the racecaller said as Marmelo crossed the line in 6th place in the Caulfield Cup. "Excellent performance, he's right on track for the Melbourne Cup," his jockey (and Winx's regular rider) Hugh Bowman said after same. This European visitor is indeed on track. And will probably win. And when jockey Hugh and trainer Hughie combine, expect HUGE headlines.
Jockey: Kerrin McEvoy. Trainer: Andreas Wohler. Odds: $16
The jockey has won two Melbourne Cups, including last year's. The trainer won the 2014 Melbourne Cup with Protectionist. The horse? Ah, well there's the problem. He's raced in both the U.S. and Europe, but has not had a start in Australia. He's such an unknown quantity here that he doesn't even know where the track is, and will bypass the race trying to hit on to Sophie Monk in the Flemington Birdcage .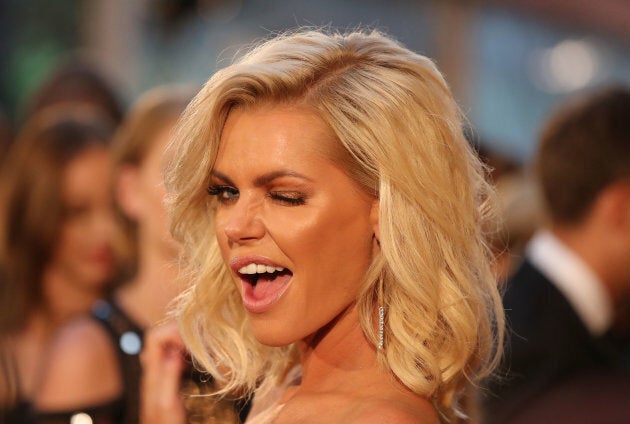 Jockey: Ben Melham. Trainer: Aidan O'Brien. Odds: $10
This horse is named after a 17th century Dutchman who painted interior scenes like the one below. Why does the milk need to be transferred from the jug to the bowl? What purpose does this serve? And why name a horse after man who painted such dreariness? What we do know is that this European Raider has been super impressive in his two Aussie runs (including 3rd in the Caulfield Cup), and could easily win.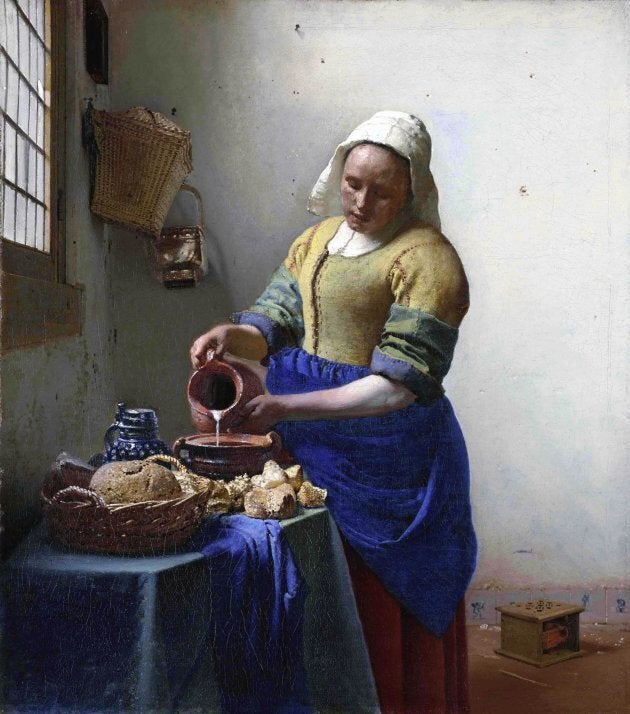 Jockey: Michael Walker. Trainer: Robert Hickmott. Odds: $67
Stupid, ugly strip of Sydney sand full of hipsters and fashionistas and tattooed thugs and inferior coffee which has assumed equine form to tackle this race for the third straight year. Ran 16th and 13th in the past two Melbourne Cups years and has about as much chance of improving this year as Sydney does of beating Melbourne in a culture battle.
Jockey: Zac Purton. Trainer: William Mullins. Odds: $17
This horse ran second to Michelle Payne's mount Prince of Penzance two years ago. He has been sulking so much ever since that he's only had four races and pretty much gone in reverse on each occasion. Trackwork watchers say he's been running brilliant times on the training track all week in Melbourne, but he's now nine years old, which is ancient in horsey terms, and he'll likely need a mid race grandpa nap.
Jockey: Glen Boss. Trainers: David & B Hayes & T Dabernig. Odds: $34
Jockey Glen Boss is the man who won three straight Melbourne Cups aboard Makybe Diva. This horse won't make it four. Ventura Storm's last win was a year ago in Milan, Italy, and ever since then he's switched his diet from oats to risotto and slowed down accordingly. If you like turning twenty dollar bills into confetti, then this is the horse for you.
Jockey: Tommy Berry. Trainer: Chris Waller. Odds: $41
This horse has performed well in the last three Cups, running 3rd in 2014, 11th in 2015 and 5th last year. Unfortunately, he is now dead. Who Shot Thebarman won the Moonee Valley Cup last week but don't be fooled. Some kind of Weekend at Bernie's thing is going on, and we promise you, his soul is in horsey heaven, and the only reason his body is here is because his owners love the prestige.
Jockey: Stephen Baster. Trainer: William Mullins. Odds: $61
Wicklow Brave ran 3rd last in the 2016 Melbourne Cup, and wouldn't win the 2017 version if he started on Monday morning and was carried around the track by an enormous flock of seagulls (which as far as we know is not against the rules). His last race was over the jumps in Ireland and everyone in racing knows that you put slow horses that can't win regular races in jumps races.
J​​​ockey: Brenton Avdulla. Trainer: Darren Weir. Odds: $20
They say in racing you've always got to forgive a horse one bad run. Big Duke had his bad run in the recent Moonee Valley Cup where he basically forgot he was a racehorse halfway through the race. If he remembers he's a racehorse on Tuesday at 3pm, he could easily give trainer Darren Weir (of Prince of Penzance/Michelle Payne fame) a second Cup because his form this spring in longer races is terrific.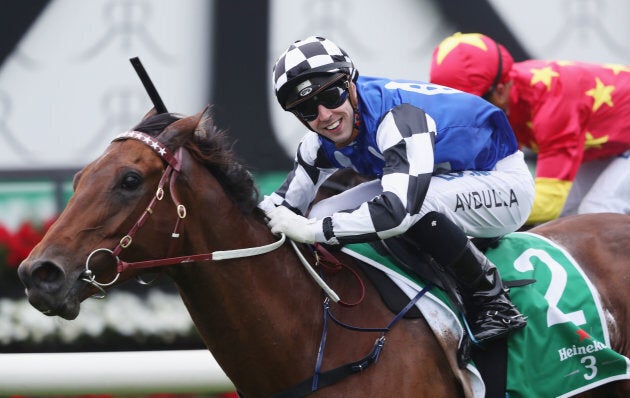 Jockey: Jamie Spencer. Trainer: Joseph O'Brien. Odds: $61
In a joint exercise between the Trump and Turnbull governments, this horse has been sent to the southern hemisphere to Make The Melbourne Cup Great Again. He will of course fail miserably. At his most recent start, this four-legged catastrophe ran last in a race in Ireland. It's not mathematically possibly to run worse than last, but we're confident he'll find a way in the Melbourne Cup.
Jockey: Cory Parish. Trainers: D & B Hayes & T Dabernig. Odds: $31
This clumsy, lumbering waste of hay started his racing career in WA and should have stayed there. After finally winning a race at its 10th start, he did what most West Australians do and became a FIFO worker. It now lives in the east and somehow won the Caulfield Cup recently, but only because every other horse got lost. The mining boom is over and so is this horse.
Jockey: Michael Dee. Trainer: Robert Hickmott. Odds: $151
He ran 20th in last year's Melbourne Cup and has had just two runs since. In one race it ran 15th of 15. In the next it ran 7th of 12. Gallante is so slow, a Melbourne tram beat it to the track in heavy traffic when it was running at top speed. The one piece of good news is that if you draw this four-legged dawdler in the office sweep, you'll almost certainly get your money back when he runs last.
Jockey: Dwayne Dunn. Trainer: Chris Waller. Odds: $51
If your astrological birth sign is Libra, then for obvious reasons this is the horse for you -- especially since we are currently in that time of the calendar. There's just one thing you should know. This horse, from the same stable as champion Winx, has ignored everything that Winx has tried to tell it about going fast, and pretty much followed the opposite path in life.
Jockey: 53 Glyn Schofield. Trainer: Iain Jardine. Odds: $31
He's Scotland's first Melbourne Cup runner but beware! This "seven-year-old gelding" is not actually a horse, but is in fact four stablehands in a horse suit. Scariest of all, they are wearing kilts with you-know-what underneath.​​
Jockey: Kathy O'Hara. Trainer: Nick Olive. Odds: $34
There's a fantastic story here. Single Gaze and rider Kathy O'Hara had an awful fall at Randwick in April 2016. O'Hara suffered a punctured lung, broken collarbone and ribs. The duo have since bounced back. O'hara has ridden this lovely chestnut mare at each of her last 22 starts, including their fantastic second in the 2017 Caulfield Cup. Can they go one better here? Probably not, but hey, ya gotta dream.
Jockey: Craig Williams. Trainer: Hugo Palmer. Odds: $13
A lot of professional racing tipsters are tipping this British stayer to win, but it's a little known fact that most tipsters in fact spend the majority their lives begging for coins outside railway stations because they're so appallingly bad at their jobs. Expect them to be even broker than usual on Wednesday morning after this appallingly slovenly creature does what it does best -- fails.
Jockey: TBA. Trainer: Charlie Appleby. Odds: $15
In history, Thomas Hobson was a stable owner in Cambridge, England, born in the 1500s, who was famous for making clients rent the slowest of his horses. It is from him that the phrase "Hobson's Choice" originates, which essentially means "take it or leave it". So should you take or leave this washed-up old Irish stayer? You already know the answer.
Jockey: Corey Brown Joseph O'Brien. Odds: $15
They're not saying much about this U.K. import who has raced just nine times, but is rated extremely highly by owner Lloyd Williams, who has won five Melbourne Cups (including last year's). In truth, this colt is hopeless. His jockey won the 2009 Melbourne Cup on a horse called "Shocking", and that's kind of apt, because Rekindling is exactly that. On the plus side, it does have four legs. For now.
Jockey: Dean Yendall. Trainer: Darren Weir. Odds: $17
Every Australian should hope Amelie's Star wins the Melbourne Cup, if only for the guaranteed entertainment value. After winning a major race in the spring carnival last year, jockey Dean Yendall -- a champion bush rider who only rides occasionally in the city -- said "I've got a raging horn". The bloke is so deliciously non-PC, he deserves to win this race. Alas, Amelie's Star's fastest speed is "backwards".
Jockey: Beau Mertens. Trainer: Gai Waterhouse. Odds: $41
Gai Waterhouse -- the trainer of 2013 Cup winner Fiorente and mum of annoying former TV bookie Tom -- qualified this horse at the 11th hour, after winning the Lexus Stakes at Flemington on Saturday. Cismontane is a front-runner so will likely lead the field into the straight, before it is swallowed up by a sinkhole the size of one of Gai's elaborate pieces of millinery that spontaneously opens up on the Flemington turf. Phew.