The Vatican has ruled that bread used to celebrate the Eucharist during Roman Catholic Mass must not be gluten free.
In a memo sent at the behest of Pope Francis, Cardinal Robert Sarah said the bread can be low-gluten but must be "without the addition of foreign materials and without the use of procedures that would alter the nature of bread."
It can be made from genetically modified organisms, he added.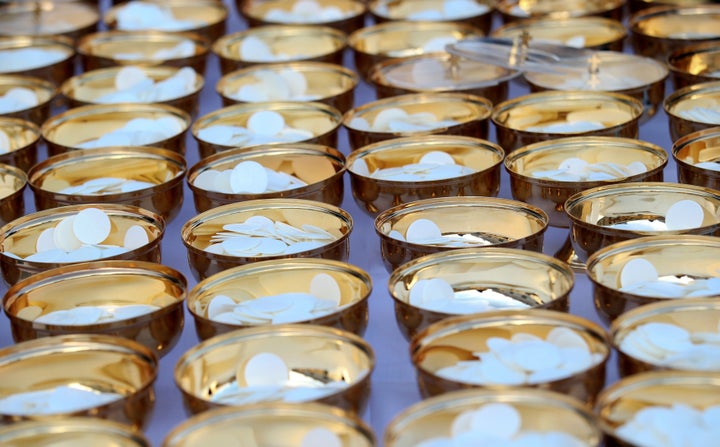 Of the wine, said to symbolise the blood of Christ, alcohol-free mustum "which is grape juice that is either fresh or preserved by methods that suspend its fermentation without altering its nature" may be substituted.
Alcoholic wine must be "natural, from the fruit of the grape, pure and incorrupt, not mixed with other substances."
Until recently, it was certain religious communities that baked the unleavened bread and made the wine for the celebration of the Eucharist during Catholic masses. The guidelines were issued to provide clarification as supermarkets and other stores increasingly sell the items too.
The Eucharist – or Holy Communion – involves eating the "flesh" and drinking the "blood" of Christ. Roman Catholics believe the bread and wine are converted to the body and blood of Christ through transubstantiation.
The Bible writes of Jesus' last supper:
And as they were eating, he took bread, and after blessing it broke it and gave it to them, and said, "Take; this is my body." And he took a cup, and when he had given thanks he gave it to them, and they all drank of it. And he said to them, "This is my blood of the covenant, which is poured out for many" (Mark 14:22-24).
Coeliac disease is a common digestive condition where the small intestine becomes inflamed and unable to absorb nutrients.
It is caused by an adverse reaction to gluten, a dietary protein found in wheat, barley and rye. It can cause a range of symptoms including diarrhoea, abdominal pain and bloating.