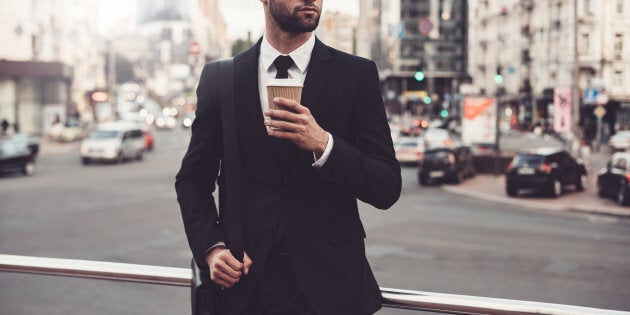 Arguably, men have it easier when it comes to dressing. Women have the extra option of skirts and dresses, while men basically have pants and shorts to choose from when it comes to bottoms. And with shorts ruled out for work (unless you're an AFL player, in which case, please continue), pants it is.
Though office dressing doesn't need to be boring. Sure, corporate careers come with a certainly level of expectation when it comes to dress, though formal needn't mean unimaginative.
Start your corporate wardrobe with a selection of staple suits.
"With any kind of suiting, try and avoid any fabrics that are shiny or have a sheen. It just looks cheap, regardless of if it's an expensive suit or a designer brand. Often they will be polyester, so learn to read fabric labels," stylist Denis Todorovic told The Huffington Post Australia.
"Polyester can be okay, but it's about the blend. Go for fabrics that are wool or cotton blends that makes the suit feel weighty. Even chain stores like Top Man have great quality suits, it's just about finding the one's that feel a bit more luxurious. At the same time you want the fabric to breathe. Linen blends are also really nice in summer."
When it comes to colour, keep it muted.
"Regarding suits, a classic black suit is versatile and essential. A quality black suit is great for official meetings and can also be worn to cocktail events in the evening," Todorovic said.
"Besides black it's fun to have a blue suit as an option. Navy, indigo or deep ocean blue is still classic, or even a lighter or brighter blue if you work in a more relaxed office. Tommy Hilfiger, Country Road and Witchery all often do a nice blue suit. In the right office environment it can brighten things up."
Lastly, classic grey suit is great on rotation.
"Go for a plain charcoal grey, or even a very fine check -- not a hounds tooth," Todorovic said.
When it comes to shirts and ties you can have some fun, but don't go too crazy.
"A general rule of thumb is to stick to a plain shirt if your tie is 'fancy', or a simple solid coloured tie if your shirt is pattered. If you want to mix and match I would suggest looking at style boards on Pinterest or following some men's suiting accounts on Instagram to get an idea of what works and what doesn't. Or even google Chuck Bass!"
"In winter it's nice to wear suit pants and a business shirt with a cashmere sweater," said Todorovic.
Corporate attire often calls for cuff links, too.
"Cuff links are a nice final touch to a great suit and shirt combo, though they can be annoying while typing at a desk. Often men will use cuff links to add a fun personal touch, so they can be a form of expression," Todorovic said.
With regards to footwear, the same muted colours work well in leather shoes.
"Black shoes are great, they're always going to go with everything. Black shoes with a black suit certainly, but brown leather shoes are another great pair to have in your wardrobe. Both black and brown pair nicely with a blue suit. If you work in more of a creative office it's also nice to have a pair of desert boots in camel or tan in the mix."
"No matter the shoes, white socks with a business suit is never okay. Men need to keep in mind that when they sit down the pant hem will ride up and your socks are on show. Black dress socks should always be worn, or have fun with your sock with brands like Happy Socks. White socks only go with sneakers," said Todorovic.
Accessories are also a nice way to add a personal touch to corporate wear. Think watches and scarves.
"Real men wear watches -- not the kind you wore in high school. At the same time you don't need a Rolex. Look to great middle market brands like Daniel Wellington and Triwa. A good cashmere scarf goes a long way in winter. Also, think about your outerwear. A coat will protect your suit jacket in winter. A 'car coat' or trench coat work best over suits."
Finally, a bag. Carrying your lunch in a Woolies plastic bag doesn't cut it when the rest of the ensemble is so stylish.
"In regards to bags, men often have a lot to carry to the office, not just women. It depends on your needs but a classic messenger or satchel bag is great for a laptop and other necessities, or even a men's tote. It sounds feminine, but they are boxier and more masculine in the silhouette. Or, go for a briefcase which, these days, isn't traditional with a combination lock, but the more chic, modern styles. You can also great really great leather backpacks that can fit a laptop plus gym clothes," said Todorovic.
"With menswear it's all about the details. Make sure your shirt is freshly pressed or ironed and that suits are regularly dry cleaned, which is why it's handy to have a few on rotation."
Todorovic's favourite menswear brands are APC, COS, Witchery, Country Road, H&M and shopping sites such as Mr. Porter and ASOS.