Michelle Obama delivered an inspirational message to young women feeling out of step with today's politics, telling a sold-out auditorium in London that the most powerful people in the world are "not that smart".
In a wide-ranging conversation with award-winning Nigerian author Chimamanda Ngozi Adichie on Monday night, the former US first lady encouraged girls to "slay the dragon in your mind" to remove barriers to success, telling a rapt audience at the Southbank Centre: "They don't have better ideas than you."
The hour-long conversation about her autobiography, Becoming, at the Royal Festival Hall was at times light-hearted in tone. The lawyer spoke of her love of peanut butter; doing her best to avoid becoming a meme; and going through "chunks of time" in her marriage when she wanted to "push" her husband, former President Barack Obama, "out of a window".
An anecdote about the Queen dismissing Royal protocol as "rubbish" was met with raucous laughter and applause.
Speaking about a visit to Windsor Castle, she said: "I had all this protocol buzzing in my head and I was like 'don't trip down the stairs and don't touch anybody, whatever you do' and so the Queen says 'just get in [the car], sit wherever' and she's telling you one thing and you're remembering protocol and she says 'Oh it's all rubbish, just get in'."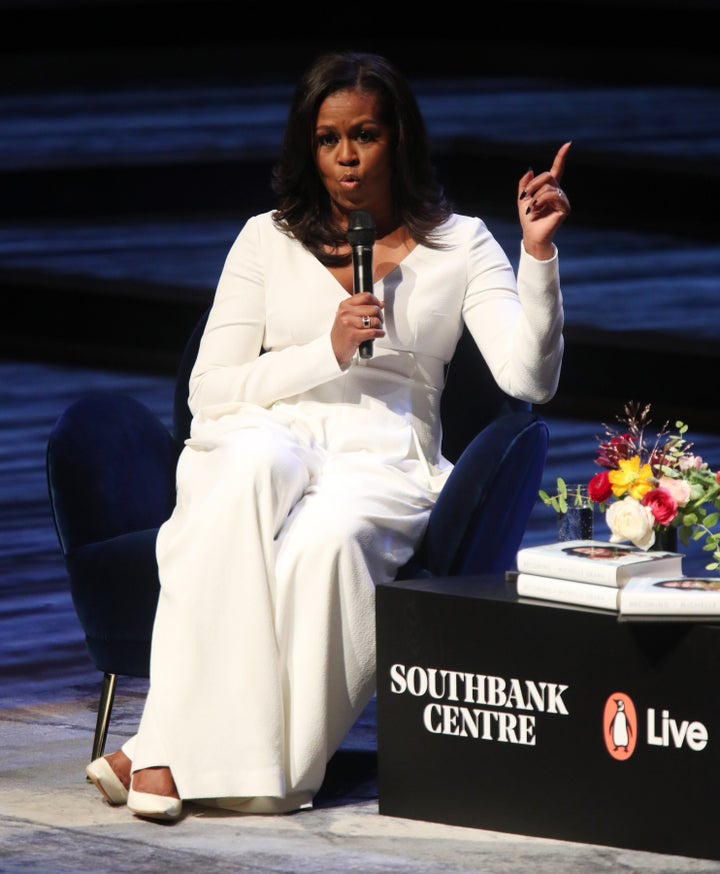 Other questions struck a poignant tone, with Obama visibly moved when asked about her father's death in 1991. "It's an emptiness, I can't (pauses) I...I still haven't gotten over because I think about all that he missed and all that he gave us that he wasn't able to see," she said.
She also spoke of the importance of nurturing girls' confidence from a young age.
"If we plant the right seeds we can change lives, that's the hope - I want to do that wherever we go," she said, adding: "We all come here with the same gifts and talent as everyone else, it isn't limited by skin colour or political party or gender."
When Adichie asked her if she had a message about being female, young and black in today's world, Obama admitted: "It's still hard out there."
She continued: "What happens to black women is we become a caricature, people will literally take our voices, they will take the things from us that they like – the size of our hips all of a sudden is in – our style, our swag.
"But then, we're demonised, we are angry, we are too loud, too everything, and I experienced that, just campaigning, just speaking truth to power – how dare I have a voice and use it."
While the tone was firmly rooted in female empowerment, Obama did manage to slip in one barbed jibe to the Trump administration. Referencing how the public eye was trained on the Obama family when they were in office, she said: "Everything from whether we looked too happy, whether we vacationed too much, whether there was too much golf - go figure."
It comes after a group of students from the Elmgreen School told HuffPost UK that getting the opportunity to see Obama speak was "better than the Olympics". Speaking after the event, the same group said the talk was something they would tell their grandchildren about.
Becoming sold two million copies within just a few weeks of its publication, with publishers Penguin Random House claiming it has become the biggest selling book of 2018 in the US and Canada.
Tickets for the event in London vanished within minutes of going on sale in November, with 55,000 people logging on to snap up just 2,700 seats.
The Southbank Centre and Penguin Live donated 300 free tickets to secondary school pupils from across London and the UK, as well as some local charities.