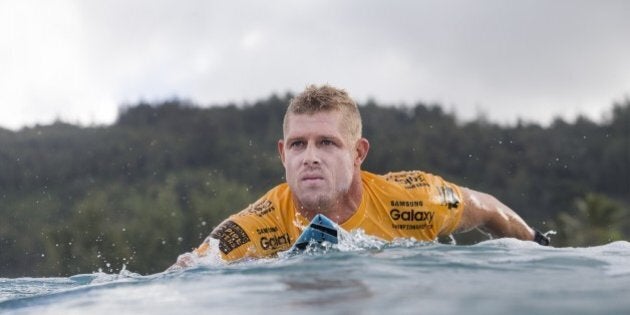 Mick Fanning's dream of a fourth world surfing title has ended this morning, despite winning through to the semi-final of the Pipeline Masters in stunning fashion.
Fanning was pitted against 11-time world champion Kelly Slater in the quarter-final -- a challenge enough in itself, but compounded by the fact the match-up against the legendary surfer came just hours after Fanning learned of the sudden death of his older brother Peter.
Trailing Slater until the final moments of the heat, Fanning pulled out what commentators called a "Hail Mary" to snatch the contest.
"That was a crazy drop from Mick Fanning... Fanning just blew up the scale," commentators said.
Despite going through to the penultimate round of the competition, Fanning came up just short of the world title he had been chasing as his rival Adriano De Souza also won through to the semis. De Souza's progress meant he put an unassailable points gap between himself and Fanning, the Brazilian clinching the title.
After his heat, Fanning told media of his internal battle as the toll of the competition combined with his own personal loss.
"I'm walking down and almost in tears every time I'm paddling out," he said.
"A friend told me once that we can deal with anything. You've just got to do the best you can and stay true to yourself and things will happen."